Choosing an Australian Course
Australia is the most popular English speaking destination for Vietnamese students and researchers. All Australian states and territories offer quality education at all levels (school, vocational education and training, higher education, English and short courses).
Australia has a very strong quality assurance framework including two national regulators which maintain national public registers of all Australian higher education and vocational education and training providers that meet national quality standards.
Click here for the Study in Australia website through which the Australian Government provides information for international students about studying at Australian education institutions.
Click here for the Commonwealth Register of Institutions and Courses for Overseas Students (CRICOS) which is the official Australian Government website that lists all Australian education providers approved to offer courses to people studying in Australia on student visas and the courses offered.
Scholarships
Australia Awards
Australia Awards are prestigious international scholarships and fellowships funded by the Australian Government offering the next generation of global leaders an opportunity to undertake study, research and professional development in Australia and for high-achieving Australians to do the same overseas.
The Australia Awards brings together scholarships and fellowships administered by the Department of Foreign Affairs and Trade, the Department of Education and Training and the Australian Centre for International Agricultural Research (ACIAR).
A variety of educational, research and professional development opportunities are available through:
• Department of Foreign Affairs and Trade – Australia Awards Scholarships and Fellowships
• Destination Australia
The Education office in the Australian Embassy Hanoi is the primary contact for Destination Australia in Vietnam.
• ACIAR's Australia Awards Fellowships
Other Scholarships
In addition to Australian Government scholarships, many Australian education institutions also offer scholarships to international students, including significant top up scholarships to the 911 Vietnamese Government scholarships. For example, in October 2015 it was estimated that the universities in the state of Western Australia offer full or partial scholarships to Vietnamese students valued at around 15 billion VND. Click here to search for a scholarship or check the websites of Australian universities you are interested in applying to.
Choosing an Education Agent
If you have decided to study in Australia, but need help with the application process, you may consider using an education agent. It is not compulsory to use an education agent. By Australian law, all Australian education institutions, including through their education agents, are required to provide you with accurate up-to-date information on the Australian education system; education and training providers in Australia and living in Australia (e.g. the cost of living, accommodation options, transport, health, etc.)
If you decide to use an education agent, it is important that you select an education agent who is qualified to assist you.
Click here for the Guide to Choosing an Education Agent.
Student Visas
Click here to access student visa information.
Living in Australia
Click here for information regarding Living in Australia
Consumer Protection
The Education Services for Overseas Students Act 2000, or ESOS Act, establishes legislative requirements and standards for the quality assurance of education and training institutions offering courses to international students who are in Australia on a student visa. ESOS also provides tuition fee protection for international students.
The Australian Government has released the revised National Code of Practice for Providers of Education and Training to Overseas Students 2018 (National Code 2018), which commenced on 1 January 2018.
Click here for more information on the ESOS legislative framework.
Australian Alumni
Finished your Australian education and want to connect with other Australian alumni in Vietnam?
Register with the 360Alumni platform to stay connected with the alumni network, learn about professional opportunities and join the conversation!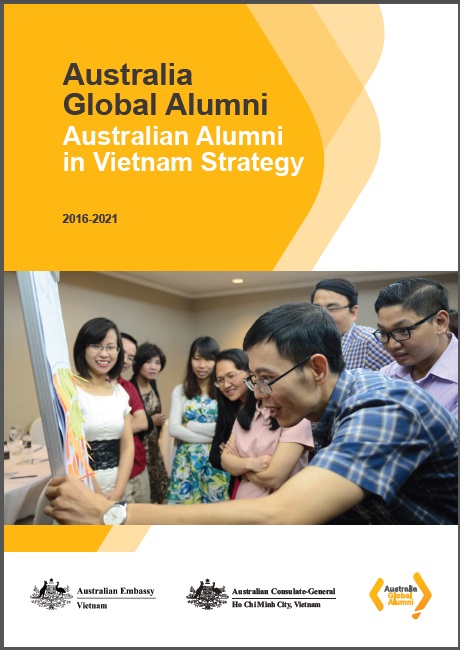 The Australian Alumni in Vietnam Strategy 2016-2021, which outlines how the Australia Global Alumni Engagement Strategy will be implemented in Vietnam, was launched in December 2016. The Strategy aims to connect, mobilise and celebrate achievements of Vietnamese alumni of Australian education programs. It will grow a local, regional and global alumni community that continue connections between Australia and Vietnam.
Alumni engagement is not a new endeavour of the Australian Government in Vietnam and the strategy builds on a solid foundation of existing networks and activities by stakeholders working on alumni issues, including all relevant Australian Government agencies, Australian universities and colleges, professional associations, and existing alumni bodies such as Vietnamese Graduates from Australia Club (VGAC).
As a result, the Facebook Fanpage has been created with five sub - professional groups connecting alumni in thematic areas: Education and Research, Legal and Justice, Agriculture, Gender, and Economic and Business. These are a platform to communicate with alumni about broad promotion of Australia-Vietnam relations; significant dates and events; opportunities such as professional development, jobs and scholarships; share knowledge and experiences; and celebrate success stories.
Australian Education Institutions
If you are an Australian education and training provider seeking assistance with international marketing, please visit the Austrade education website.
The Australian Government Department of Education and Training, International Group works to foster international partnerships, provide strategic policy advice, ensure quality, and enhance international students' experiences. The Department conducts research into international education trends, including international student statistics.
Through the international network, the Department directly supports bilateral and multilateral education relationships around the world, including an Education and Science Counsellor position in Vietnam. The Education office based at the Australian Embassy Hanoi fosters cooperative projects which assist with Vietnam's education reforms, promotes the excellence of Australia's Education and Training system, and develops two-way student mobility, science and research engagement and institutional linkages with Vietnam.
Click here for further information about the Department of Education and Training.