Overview of Australia's Aid Program to Vietnam

Dao women working in tea factory in Bac Ha, Lao Cai as part of the GREAT project
How we are helping
2018-19 Total Australian ODA Estimated Outcome
$78.0 million
2019-20 Bilateral Budget Estimate
$58.4 million
2019-20 Total Australian ODA Estimate
$78.2 million
Australia and Vietnam's partnership extends across political, security, economic and people-to-people activities. Australians born in Vietnam represent the sixth largest migrant community in Australia, and around 30,000 Vietnamese students enrol in education institutions in Australia each year. Vietnam is one of our fastest growing trade partners, and is central to regional security in South East Asia. The country's further development as a strong trade and investment partner is vital to our national interest and the region's prosperity.
Vietnam experienced remarkably rapid economic growth in the past two decades. However, there are risks to the medium term outlook. Businesses are constrained by the lack of a skilled workforce; and investments in infrastructure and deeper economic reforms are needed to sustain private sector growth. Inequality is a continuing challenge, with 9.3 million people (9.8 per cent of the population) living below the national poverty line (World Bank, 2016). It is a particular issue for women and ethnic minorities. Vietnam is one of few countries in which the gender pay gap has widened over the last decade. Ethnic minorities have still not benefitted equally from economic growth — although they comprise just 15 per cent of the population, they account for around half of those living in poverty.
Vietnam's Socio Economic Development Strategy (SEDS) 2011-20 provides the country's overarching policy for responding to these challenges. It sets three high priorities – improving market institutions, promoting human resources, and infrastructure development – and highlights the need for a combination of structural reforms, macroeconomic stability, environmental sustainability, and social equity.
Australia's commitment to development cooperation with Vietnam is ongoing. Reflecting our maturing economic partnership, we will continue to leverage Vietnam's significant domestic resources and foreign investment, and support Vietnam's efforts to enter a new phase of economic development. By helping to stimulate the private sector, upskill the workforce, and support inclusive growth, we will contribute to achieving our shared, overarching goal of promoting prosperity and reducing poverty in Vietnam.
The Australian Government will provide an estimated $78.2 million in total ODA to Vietnam in 2019-20. This will include an estimated $58.4 million in bilateral funding to Vietnam.
Our program is organised around the following three mutually reinforcing objectives as outlined in the Aid Investment Plan 2015-20.

A visit by members of Women in Leadership Journey 2 to the Hanoi Association of People with Disabilities to learn how to better support people with disabilities
Objective 1: Enabling and engaging the private sector for development
Improving market institutions and infrastructure is essential to Vietnam's ongoing development. We are supporting economic reform by drawing on international experience in areas such as competition policy to help "level the playing field" for the private sector. We will help identify innovative approaches that improve firms' access to finance by reducing the cost of credit and build their capacity.
Australia is helping Vietnam's Ministry of Transport prepare high-quality projects that address transport infrastructure gaps, prioritising a small number of infrastructure investments that promote the benefits of new engineering or contracting approaches for improved efficiency. We are also providing support to increase women's engagement in a largely male-dominated sector.
We are identifying innovative approaches to improve access to water, including through making better use of private sector finance, supporting improvements to water utility operations, and the introduction of new technologies in remote areas.
Investments for enabling and engaging the private sector for development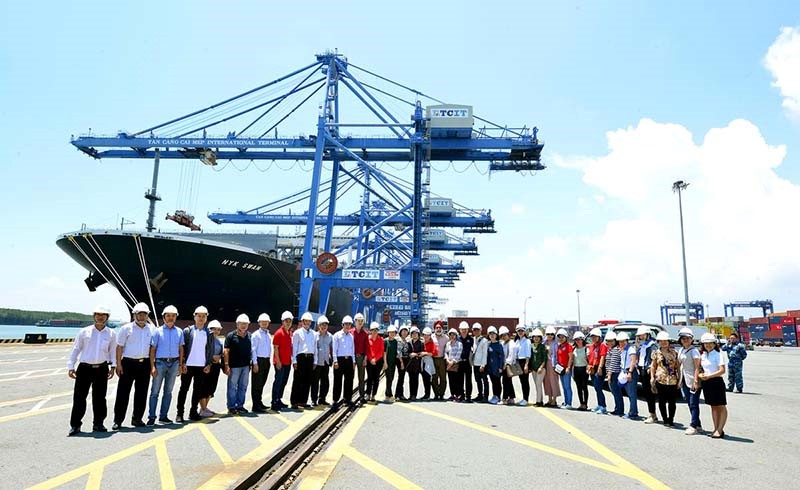 Cat Lai and Cai Mep Port tour by the Logistics Industry Reference Council
Objective 2: Assisting the development and employment of a highly-skilled workforce
A skilled workforce that is harnessed by successful business will assist Vietnam to move into a new phase of growth and invest in innovation, ensuring that domestic industries can remain competitive. Australia will support Vietnam in its efforts to develop a skilled workforce by engaging with the private sector to ensure training meets industry's needs.
We support Vietnam's human development with Australia Awards Scholarships, Australia Awards short courses and other informal learning opportunities, with an increased focus on targeting skills development and workplace productivity in priority sectors. We will promote participation among women, people with disability and members of ethnic minorities.
Investments for assisting the development and employment of a highly-skilled workforce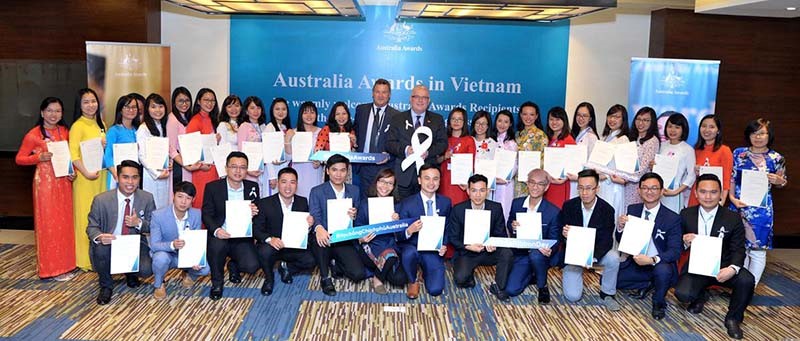 Australia Awards and Australia Awards-ASEAN Scholarship recipients with the Ambassador to Vietnam at their Pre-departure Briefing, November 2018
Objective 3: Promoting women's economic empowerment, including ethnic minorities
Empowering women to participate actively in the economy is critical to reducing poverty and building a sustainable economy. Our assistance is supporting women's economic empowerment by: promoting opportunities for women in the formal sector, and the expansion of women-led small to medium enterprises, contributing to more inclusive economic growth; and helping to close the gender gap in economic livelihoods in some of Vietnam's poor and remote communities.
Investments for promoting women's economic empowerment, including ethnic minorities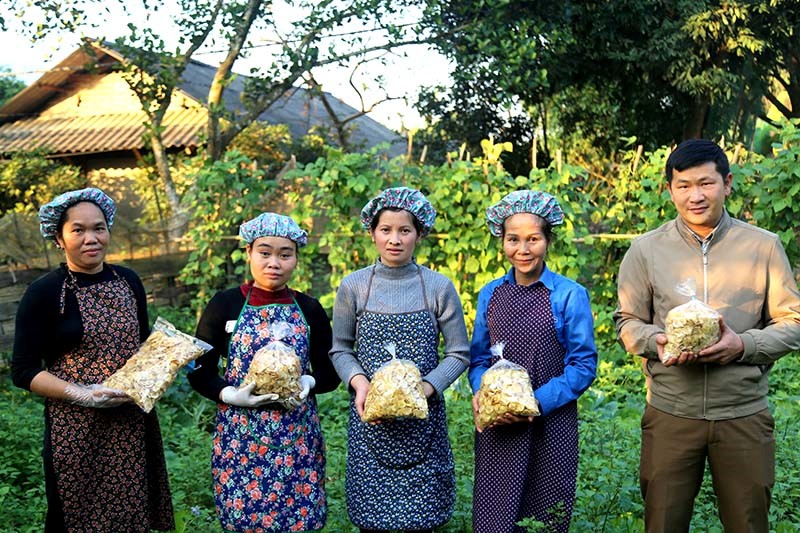 Members of the Hop Thanh-Thanh Van Cooperative in Thanh Van commune, Cho Moi district, Bac Kan province present their banana products, 2019
Our results
The Cao Lanh Bridge ($160 million, 2011-2020)—Australia's largest single aid activity in mainland Southeast Asia—was completed in May 2018, and will create new economic opportunities for the five million people living in the surrounding area, including an estimated 170,000 road users per day.
The Women's Economic Empowerment through Agricultural Value Chain Enhancement (WEAVE) project has trained 587 households (98 per cent of the program's target) on post-harvest processing, product marketing and budget management. Project beneficiaries applying advanced farming or post-processing techniques have reported a 15 to 20 per cent increase in selling prices for their products at the market, compared with the sale of raw materials.
Between July 2017 and June 2018, Aus4Skills delivered 13 Australia Awards short courses and 12 informal training opportunities to 645 Vietnamese participants.
Fifty Australia Awards Scholarships were offered for Masters level study commencing in 2019.
Since 2007, Australia has awarded over 2,000 scholarships to Vietnamese students for tertiary study in Australia.
The pilot Logistics Industry Reference Council that is promoting industry linkages with vocational education and training was launched in 2017. Increased industry engagement in vocational education and training curriculum design and provision will help graduates develop skills to meet the requirements of employers and the labour market demand of Vietnam and the region.
To increase productivity and competition in the Vietnamese economy, the Aus4Reform program and now-concluded Restructuring for a More Competitive Vietnam program, have helped abolish 3,299 ineffective business conditions and draft a strengthened competition law.
Through our partnerships with the Australian Water Association and East Meets West Foundation, Australia provided over 20,000 rural poor in Son La, Ha Nam and Khan Hoa provinces with clean water – more than doubling our performance benchmark, and significantly exceeding our 2017-18 target of using the private sector to supply rural populations with water.
Through the Australia-World Bank Strategic Partnership Phase Two, Australia supported a legal review and gap assessment that recommends legislative changes required to ensure Vietnam's compliance with the TPP-11.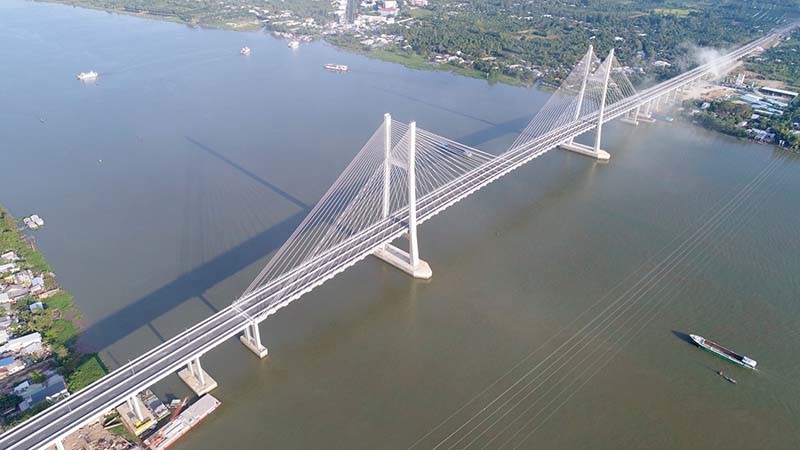 Australia's largest single aid activity in mainland Southeast Asia - was completed in May 2018
Publications
Fact sheets
Vietnam Aid Program Performance Report 2018-19
The Direct Aid Program in Northern Vietnam 2018-19
Overview
The Direct Aid Program (DAP) in Northern Vietnam is a flexible small grants program funded by the Department of Foreign Affairs and Trade (DFAT) and administered by the Embassy of Australia in Hanoi. DAP in Northern Vietnam covers provinces north of, and including, Thua Thien Hue province. The Australian Consulate General in Ho Chi Minh City manages a DAP scheme for projects south of, and including, Da Nang City.
Sectoral focus
DAP projects should be aimed primarily at achieving practical and tangible outcomes, such as on poverty alleviation, community health; schools/education; small-scale infrastructure; rural development; youth; gender equality, as well as resilience to climate change.
Proposals that provide direct benefits to those most in need in the local community, including vulnerable or disadvantaged groups, people with disabilities, women, children and youths are strongly encouraged. This year, proposals that take an innovative approach to a longstanding development challenge will be given priority.
Applications and enquiries
Applications for the 2018-19 program have now closed.