Australia's Development Program to Vietnam

Dao women working in tea factory in Bac Ha, Lao Cai as part of the GREAT project
How we are helping
Estimated Australian ODA in 2022-23 is $92.8 million. This includes:
Bilateral - $61.7 million
Australia and Vietnam's partnership extends across political, security, economic and people-to-people activities. Australians born in Vietnam represent the sixth largest migrant community in Australia, and around 30,000 Vietnamese students enrol in education institutions in Australia each year. Vietnam is one of our fastest growing trade partners, and is central to regional security in South East Asia. The country's further development as a strong trade and investment partner is vital to our national interest and the region's prosperity.
Vietnam experienced remarkably rapid economic growth in the past two decades. However, there are risks to the medium term outlook. Businesses are constrained by the lack of a skilled workforce; and investments in infrastructure and deeper economic reforms are needed to sustain private sector growth. Inequality is a continuing challenge, with 9.3 million people (9.8 per cent of the population) living below the national poverty line (World Bank, 2016). It is a particular issue for women and ethnic minorities. Vietnam is one of few countries in which the gender pay gap has widened over the last decade. Ethnic minorities have still not benefitted equally from economic growth — although they comprise just 15 per cent of the population, they account for around half of those living in poverty.
Vietnam's Socio-Economic Development Plan 2021-2030 provinds the country's overarching policy for responding to these challenges
Australia's commitment to development cooperation with Vietnam is ongoing. Reflecting our maturing economic partnership, we will continue to leverage Vietnam's significant domestic resources and foreign investment, and support Vietnam's efforts to enter a new phase of economic development. By helping to stimulate the private sector, upskill the workforce, and support inclusive growth, we will contribute to achieving our shared, overarching goal of promoting prosperity and reducing poverty in Vietnam.
Our program is organised around the following three mutually reinforcing objectives as outlined in the Vietnam COVID-19 Development Response Plan Vietnam COVID-19 Development Response Plan | Australian Government Department of Foreign Affairs and Trade (dfat.gov.au)

A visit by members of Women in Leadership Journey 2 to the Hanoi Association of People with Disabilities to learn how to better support people with disabilities
Health Security
To strengthen health security in Vietnam, Australia will promote a more resilient Vietnamese health system, better able to maintain full health service delivery in the event of further health security threats, including a future wave of COVID-19. Our global health investments will help strengthen Vietnam's health systems, provide access to lower cost health products and address other major disease burdens, including tuberculosis and malaria. We will support equitable access to safe and effective COVID-19 vaccines in Vietnam through multilateral and regional initiatives to finance, assess, deliver, and monitor COVID-19 vaccines. Australia will continue its regional support for sexual and reproductive health. We will invest in Vietnamese innovation to support new health approaches, including the trial of artificial intelligence in COVID-19 responses.
We will increase links between Australian and Vietnamese scientists, health professionals, security forces and research institutions. This will include offering health fellowships, identifying health as a development priority within our scholarship programs, and linking scientific research efforts through CSIRO, Australia's Centre for Disease Preparedness and the Indo-Pacific Centre for Health Security.
Australia's law enforcement agencies and defence forces will continue to exchange information with Vietnam to strengthen health security. Australia will contribute to COVID-19 recovery effort through ASEAN dialogues and forums. Australia will exchange knowledge with border officials on strengthening border reopening practices as the health situation improves.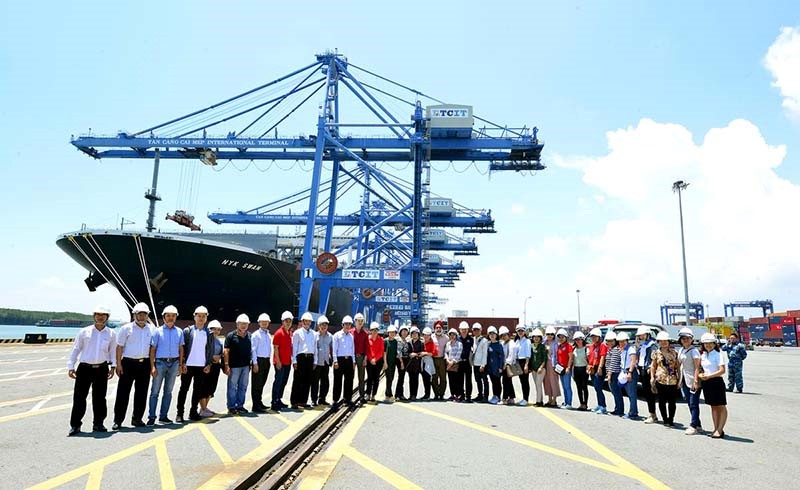 Cat Lai and Cai Mep Port tour by the Logistics Industry Reference Council
Stability
Australia will support Vietnam to strengthen its institutions and train its future leaders, so they are equipped to manage future shocks and regional challenges. The new Vietnam-Australia Centre (VAC), situated in the Ho Chi Minh National Academy of Politics will be the centrepiece of these efforts. The VAC will strengthen collaboration in leadership and innovation to enable Vietnamese and Australian experts to pursue solutions to shared regional challenges and to protect international rules and norms. Australia's cyber security program will assist Vietnam to navigate challenges and opportunities in the digital sphere while driving economic growth.
Australia will promote human rights education and support building the capacity of Vietnamese government agencies and educational institutions to enhance the promotion and protection of human rights. We will work to enhance responsible business conduct through increasing human rights knowledge and capabilities of businesses and future business leaders.
Australia will work to prevent and respond to violence against women and children, ensure gender equality is central to recovery efforts and promote inclusive recovery. We will deliver training to strengthen Vietnamese law enforcement, including promoting the role of women in police management. We will continue our whole‑of‑government efforts to reduce transnational crime in the region.
Australia will help Vietnam's planners manage the pressure of rapid economic restructuring necessary for recovery, including by strengthening food, energy and water security. We will strengthen local resource planning and water delivery, with a strong gender focus. The Australian Centre for International Agricultural Research will continue to foster research connections and Australia will provide grants to support agricultural resilience.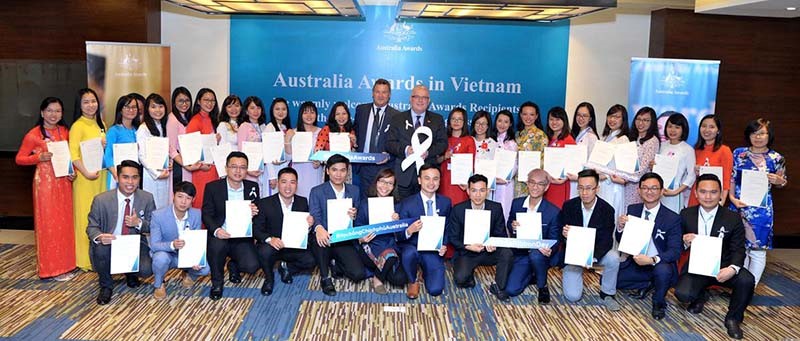 Australia Awards and Australia Awards-ASEAN Scholarship recipients with the Ambassador to Vietnam at their Pre-departure Briefing, November 2018
Economic Recovery
To support economic recovery, Australia will provide targeted policy advice to Vietnam's economic leaders to help reform the policy and business environment and accelerate public and private investment. We will work with Vietnamese partners to lift the quality of public and human capital in order to buttress Vietnam's long-term growth. This includes developing skills, especially through vocational education and training, for the workforce of the future.
Australia will support the development of industry skills boards, strengthen education and university governance standards, and quality assure higher education qualifications, including online delivery. We will deepen bilateral innovation system partnerships, preparing us to access future growth industries and manage tomorrow's shocks. We will help Vietnam's transport planners more rapidly access high-quality infrastructure finance to support recovery.
Australia will support Vietnam's trade and customs officials to reopen supply chains disrupted by the pandemic and implement trade commitments. Australia's Department of Agriculture, Water and the Environment will support the biological security of trade in plant and animal products with Vietnam.
Austrade will support Australian businesses to trade and grow their connections with Vietnamese partners. We will work with the Australian Chamber of Commerce in Vietnam to continue to represent and promote the interests of Australian businesses operating in Vietnam.
Australia is increasing women's economic empowerment by encouraging greater female participation in the labour market and global value chains. This includes supporting Vietnamese farmers, logistics providers and tourism operators to revive and improve their livelihoods, especially businesses led by women and people from minority groups.
Protecting the most vulnerable, especially women and children, will be a cross-cutting theme of Australia's engagement in Vietnam. Australia will work with partners to tackle domestic violence in Vietnam and ensure that women, ethnic minorities and people with disabilities are not left behind in recovery efforts. We will promote human rights to strengthen social cohesion and promote rights for the vulnerable. Australia's law enforcement agencies will work with Vietnam to prevent COVID-19 related spikes in child sexual exploitation.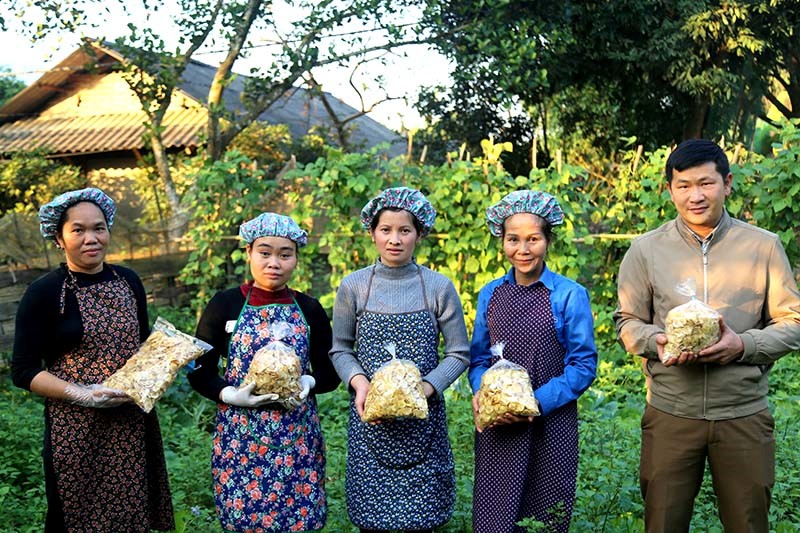 Members of the Hop Thanh-Thanh Van Cooperative in Thanh Van commune, Cho Moi district, Bac Kan province present their banana products, 2019
Our results
Australia has shared more than 26.5 million COVID-19 vaccine doses with Vietnam to support the national COVID-19 vaccine rollout. Through our partnership with UNICEF we have procured and delivered 1,910 refrigerators to boost capacity for remote and hard-to-reach communities; supported the training of 5,823 health care workers, teachers and military officers to support the delivery of vaccines; and disseminated COVID-19 vaccination communication materials to 20,000 vaccination sites across the country.
Since 2000, Australia has contributed over $650 million in grant-based ODA for the Mekong Delta. This includes the Cao Lanh Bridge ($160 million, 2011-20)—Australia's largest single aid activity in mainland Southeast Asia—that was completed in May 2018 and is creating economic opportunities for the five million people living in the surrounding area, including an estimated 170,000 road users per day.
Since 1974 Australia has funded more than 7,000 Australia Award Scholarships, supporting Vietnamese leaders and emerging leaders to undertake study, research and professional development in Australia.
More than 80,000 Vietnamese people are part of Australia's global alumni network, receiving continuous support from Australia for personal and professional development to enhance their contribution to the development of Vietnam.
The number of logistics enrolments at VET colleges has increased eight times since 2017 based on support from the Aus4Skills program. By 2021, ten VET colleges introduced competency-based training and assessment approaches to their curriculum in the logistics and allied sectors.
15,378 women, mostly from ethnic minority groups, have increased incomes, and 1,963 women were supported to be elected to leadership positions in community-based groups with the support of Aus4Equality.
Over 2,000 women and children were supported with their domestic violence situations with Australia's support including information campaigns, capacity building to counsellors and a hotline established with DFAT funding.
22 companies with 188,000 employees improved gender equality through inclusive leadership and flexible work and anti-harassment practices which have been formalised in the companies' internal policies.
A summary of best international practices for science, technology and innovation supported Vietnam's National Science, Technology and Innovation Strategy for 2021-30, laying out an important legal foundation for Vietnam's innovation system.
Aus4Transport has leveraged a total of USD446 million in financing for transport infrastructure, by providing project preparation services for three major construction projects.
Through the Australia-World Bank Strategic Partnership, Australia has influenced 42 policies including the Vietnam Socio-Economic Development Strategy 2021-25, Revision of Gender Equality Law, Vietnam Green Growth Strategy 2021-30, and Vietnam's National Digital Transformation Program.
PAPI reporting and related discussions provided data for government agencies to review their performance and policies. By Dec 2021, all 63 provinces in Vietnam had hosted PAPI workshops and 30 provinces renewed their commitments to improve performance.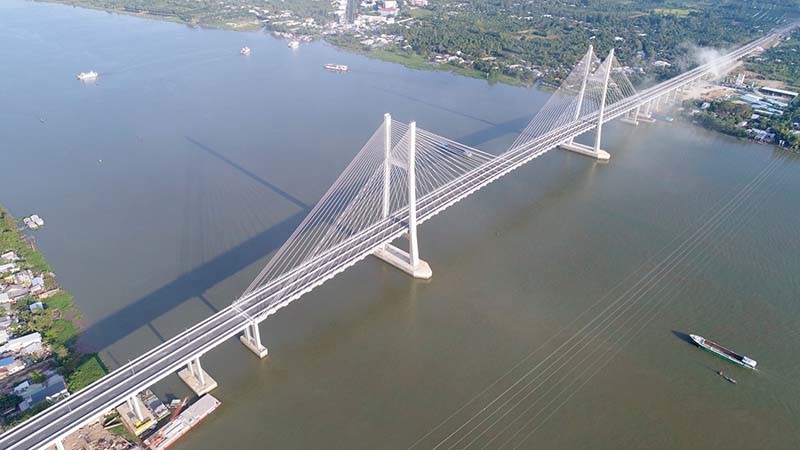 Australia's largest single aid activity in mainland Southeast Asia - was completed in May 2018
More information on programs addressing Development Assistance in Vietnam
Publications
Fact sheets