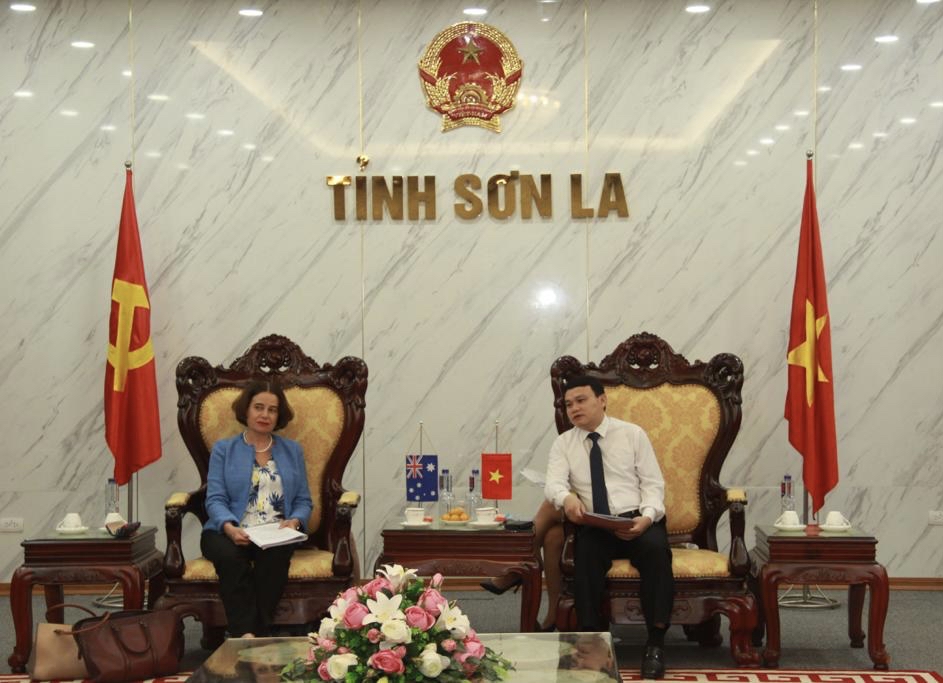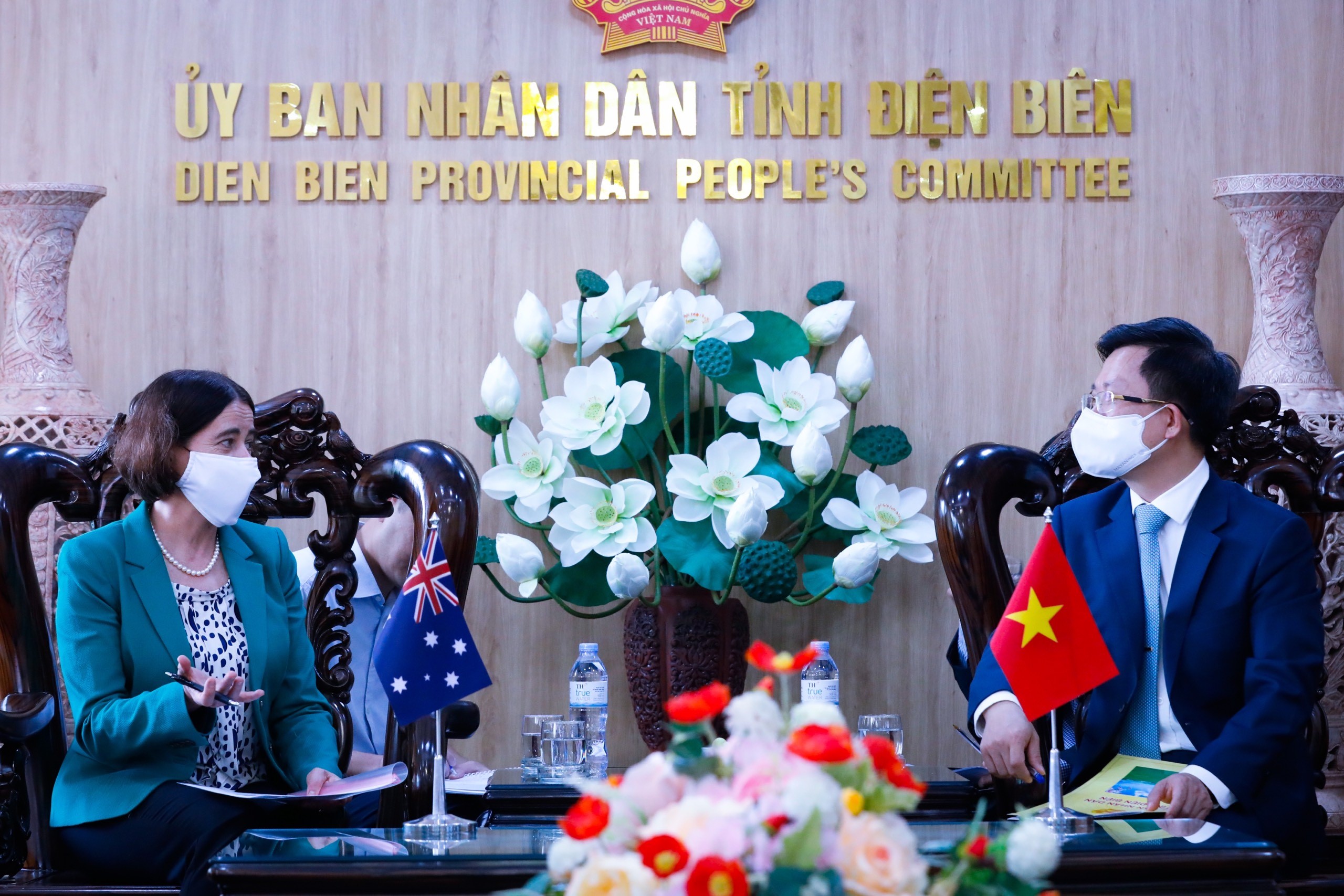 From 12 to 15 April 2022, a delegation from the Australian Embassy in Vietnam visited Son La and Dien Bien provinces to meet with local government leaders and farmers and businesses who are benefiting from Australian-supported projects. During the mission, H.E. Ms. Robyn Mudie, Australian Ambassador to Vietnam met with small businesses in the region, including those run by ethnic minority women, to learn how Australian investments are improving livelihoods and economic opportunities.
The visit reaffirmed Australia's commitment to socio-economic development in the northwestern provinces as a part of its long-term partnership with Vietnam through the Gender Responsive Equitable Agriculture and Tourism (GREAT) program, an Australian NGO Cooperation Program (ANCP) project implemented by CARE International in Vietnam, and the Australian Centre for International Agricultural Research (ACIAR).
The GREAT program is Australia's most significant gender investment in Vietnam, totaling A$33.7 million. The program works with business, NGOs, and government partners to build more inclusive business and market systems within the agriculture and tourism sectors in Son La and Lao Cai provinces, to ensure that local women and ethnic minorities actively participate in and benefit from related economic activities and growth.
The visit to GREAT's partners included a tour of Xuan Nha Clean Bamboo Shoot Cooperative in Xuan Nha Commune, Van Ho District, and dinner with local women homestay owners in Vat Village, Moc Chau District. The delegation heard how the program has connected local community-based tourism businesses and groups to high-value markets. Despite the impact of COVID-19, the GREAT program has supported Vat Village to grow from 2 to 17 homestay businesses and become a thriving tourism destination. The program has led to increased incomes for over 6,500 women and attracted nearly A$4 million in private sector investment.
The delegation also visited the Technologically Enhanced Agricultural Livelihoods (TEAL) project in Mai Son District, which is being implemented by CARE International in Vietnam to support ethnic minority women in remote areas to produce specialty coffee, connect with high-end markets, and achieve broad women's economic empowerment outcomes.
Since 1993, ACIAR has invested around A$32 million through 20 international collaborative research projects in northwest Vietnam to develop sustainable farming systems on sloping lands, diversify agricultural products, protect natural resources, and improve farmers' income.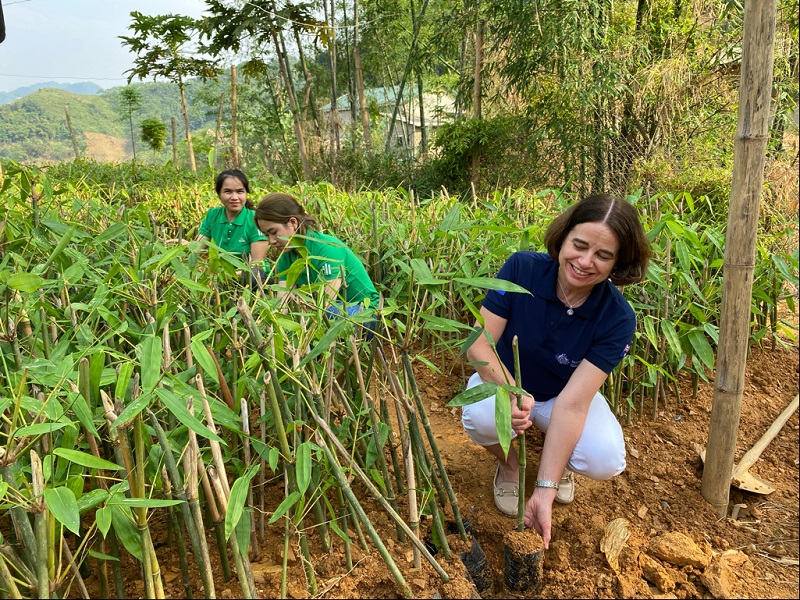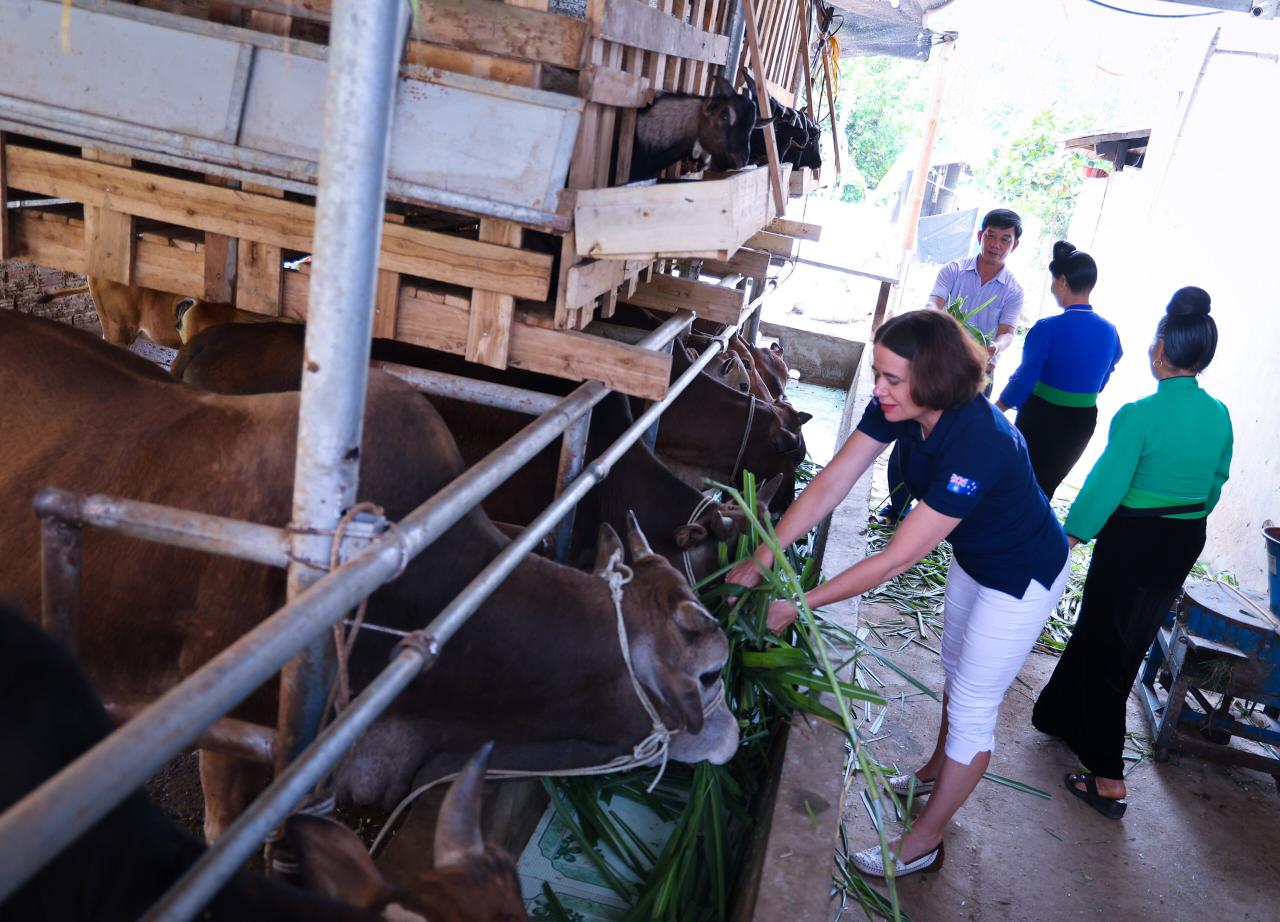 During this visit, Ambassador Mudie and the delegation met with farmers and local authorities from Dien Bien Province who have supported and participated in an ACIAR project led by the National Institute of Animal Sciences (NIAS) to develop beef cattle production. With support from the project, farmers have adopted new and effective intensification techniques to increase income and start new community-based business to improve performance in the value chains. To date, around 400 smallholder families have benefited from the projects' capacity building initiatives, market linkage improvement, and more intensive production activities.
By joining the collaborative projects funded by ACIAR, Dien Bien's Department of Agriculture and Rural Development has improved its capacity in research, management, and leadership, which has in turn resulted in the successful development of a five-year strategy and a budget of VND 29 billion (A$1.7 million) for a market-oriented livestock development program for the province.
Over the past ten years, ACIAR has invested more than A$10.5 million into agricultural research projects in Dien Bien Province to develop beef cattle production and agroforestry systems that improve the livelihoods and equity of local smallholder farmers, especially those from the ethnic minority communities.
In meetings with Son La and Dien Bien Peoples' Committees, the Australian Ambassador noted the multifaceted partnerships between Australia and the northwest region, discussed Australian investments, and canvassed opportunities to further strengthen ties.
"The partnership between Australia and the north-western provinces of Vietnam is deep and enduring. We share long-term development goals and strong people to people links", said Ambassador Mudie. "Australia is committed to working in partnership, to share expertise with the region for inclusive and sustainable growth."
Media contact:
Ms Nguyen Thi Le Trang +84 24 3774 0261 [email protected]