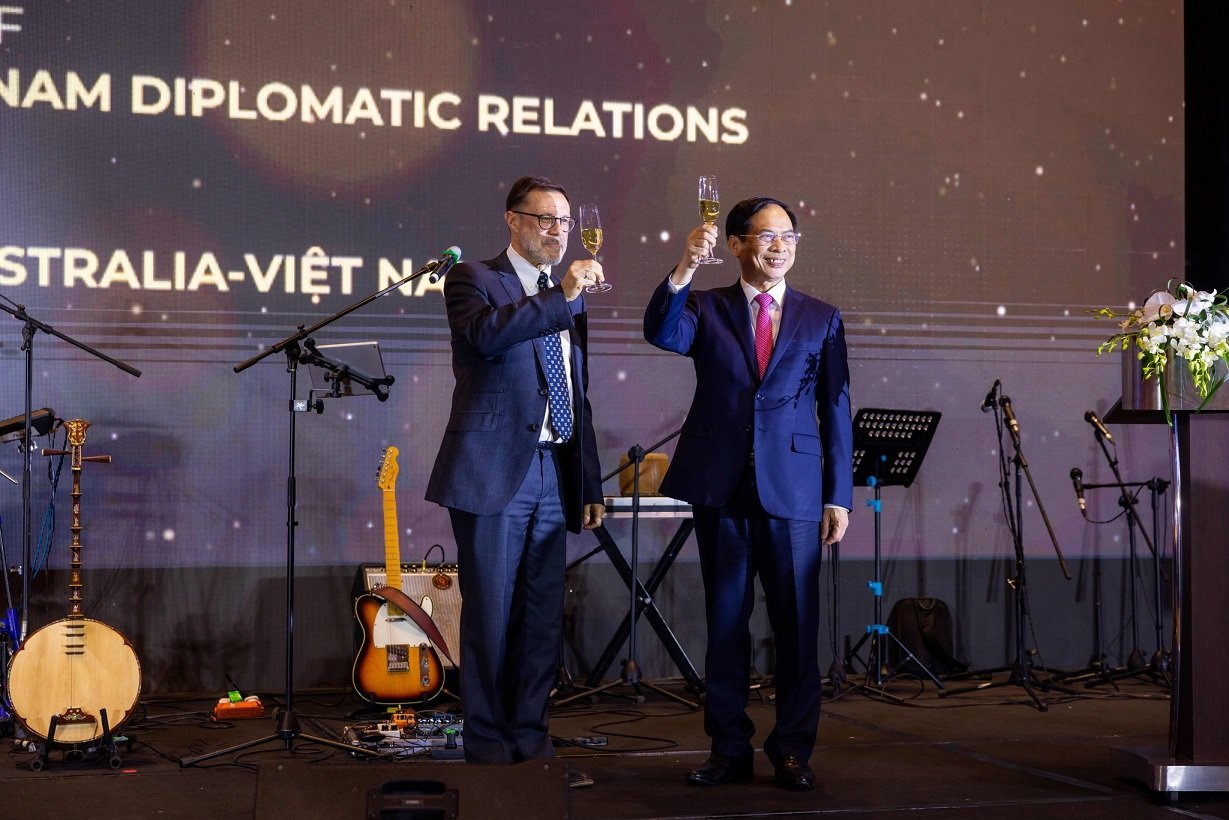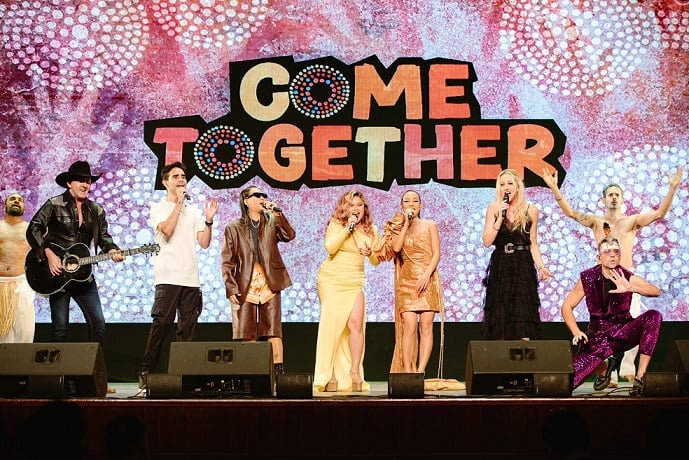 Celebrations to recognise the 50th anniversary of diplomatic relations between Vietnam and Australia commenced this week in Hanoi and Ho Chi Minh City.
The arrival of three performers from Australia marked the start of a series of activities to celebrate the 50 year-long partnership while also promoting Australia's rich First Nations culture.
Mitch Tambo, a multi-talented didgeridoo player and traditional Indigenous singer and dancer; one of the highest streamed First Nations artists in the World, Isaiah Firebrace; and Lee Kernaghan, Australia's most loved country music star, arrived in Ho Chi Minh City on Wednesday.
A highlight of their visit was the Come Together Showcase at the Saigon Opera House on the 23rd of February, hosted by Australia's Ambassador to Vietnam, HE Andrew Goledzinowski, and Ms Sarah Hooper, Australia's Consul General in Ho Chi Minh City. Featuring the three performers from Australia alongside three Vietnamese singers, the event was an energetic display of both countries' cultures, cumulating in a rendition of the Australian trio's recently released collaboration, 'Come Together', sung by all artists and including a verse in Vietnamese. The song is a celebration of unity and diversity and the need to continue working together for a better future.
The signature gala reception in Hanoi on the 24th of February welcomed over 500 guests and close partners of the Australian Government in Vietnam, including His Excellency Mr Bui Thanh Son, Minister of Foreign Affairs of Vietnam, who joined Ambassador Goledzinowski to deliver a speech on Australia and Vietnam's bilateral partnership and toasting the future of the relationship.
In his speech, Ambassador Goledzinowski acknowledged some of the highlights of the past 50 years and welcomed a future full of opportunities to take the relationship further, saying: "The 50th anniversary isn't just about looking back at what we have achieved so far, it's about looking to the future. We look forward to elevating our ties to a Comprehensive Strategic Partnership. This will place our nations within the top echelon of our bilateral partnerships and position us both to enhance cooperation, seize new opportunities and address emerging challenges.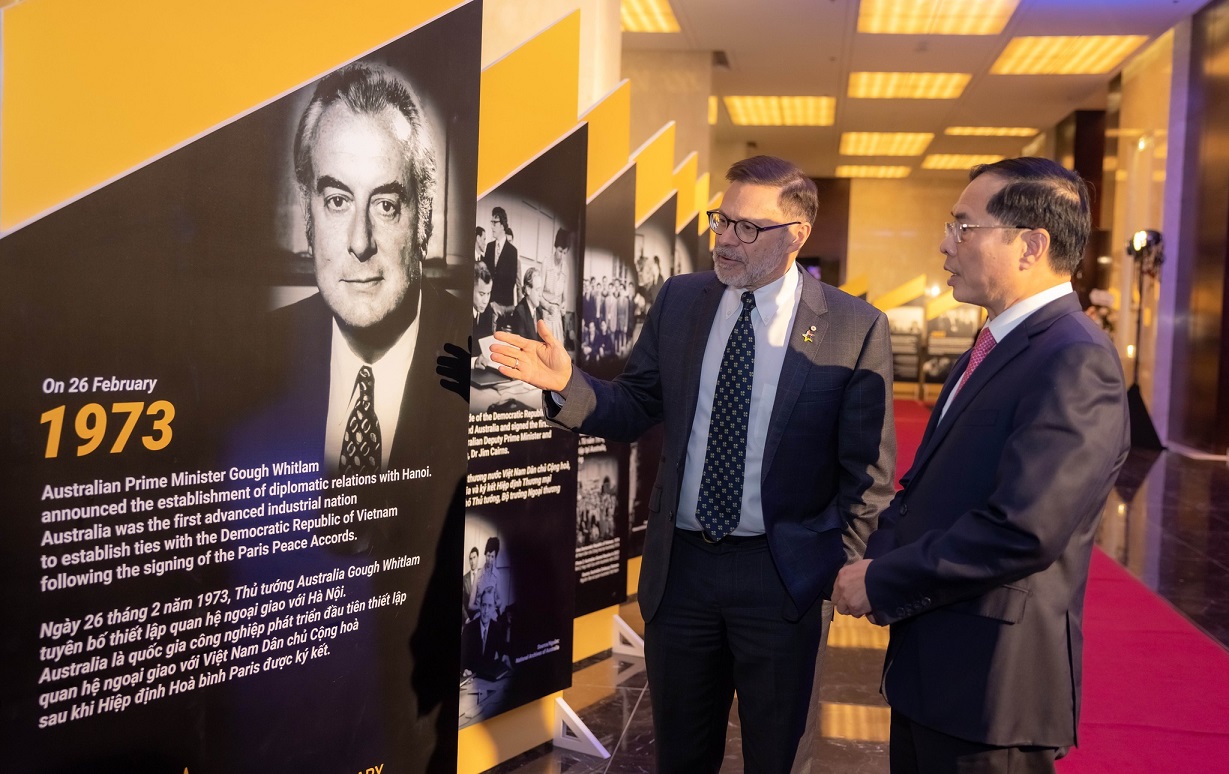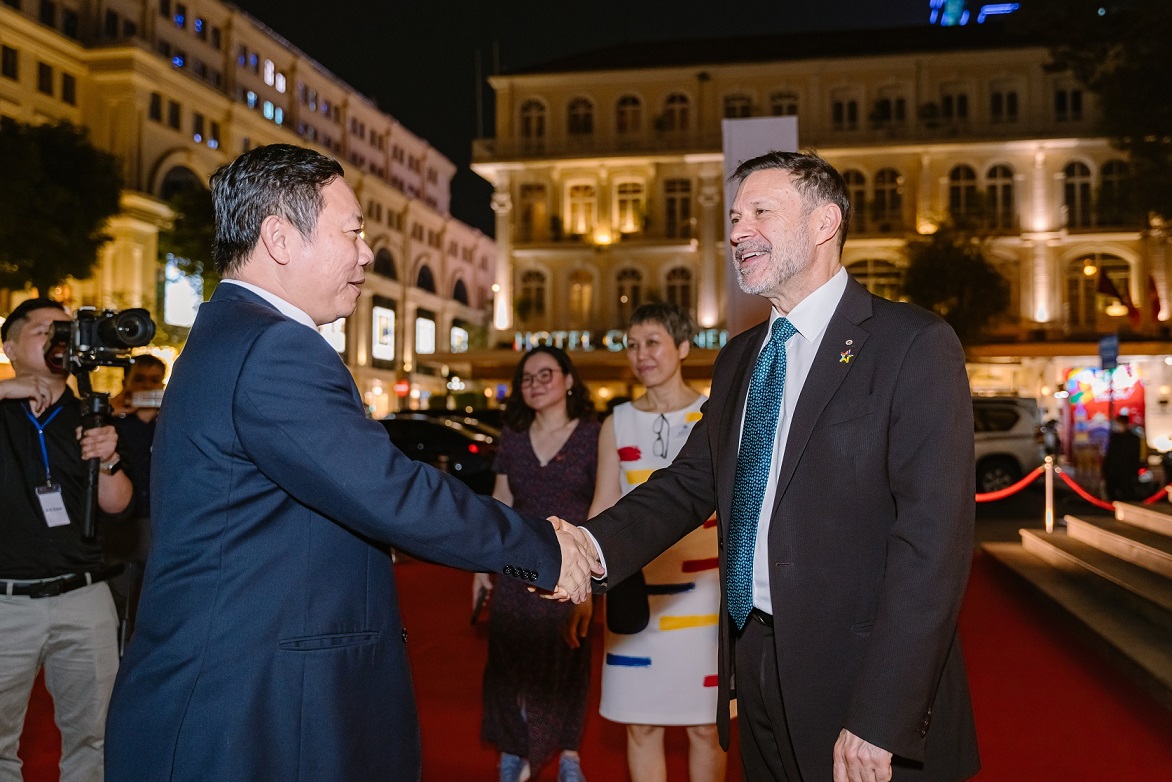 Minister Son concurred with this positive outlook, stating: "I am confident that given the great complementaries between the two economies, the enormous potential of each country, and the increasing political trust between Viet Nam and Australia, we shall together elevate our bilateral ties to a new height, as agreed upon during the official visit to Australia by President of the National Assembly Vuong Dinh Hue last December."
Isaiah Firebrace entertained the guests with a unique rendition of two hit songs, accompanied by the Australian Army Band. Australian and Vietnamese military musicians also provided outstanding performances of some Australian pub rock classics and jointly performed a traditional Vietnamese marching song.
During their visit to Vietnam, Isaiah and Mitch also joined student workshops at the Ho Chi Minh City Music Conservatory, the Australian International School, and Hanoi Adelaide School to share lessons from their journeys as some of Australia's most beloved First Nations artists. Students were excited to engage in music activities and learn about Australian First Nations culture. One of the highlights was the introduction of Isaiah Firebrace's number 1 children's book about our First Nations people, titled 'Come Together' – inspired by his petition to the Australian Government calling for Aboriginal history to be taught in every classroom.
#AUVietnam50
For more information contact Nguyen Thi Le Trang, [email protected], +84 (0)98 365 6307