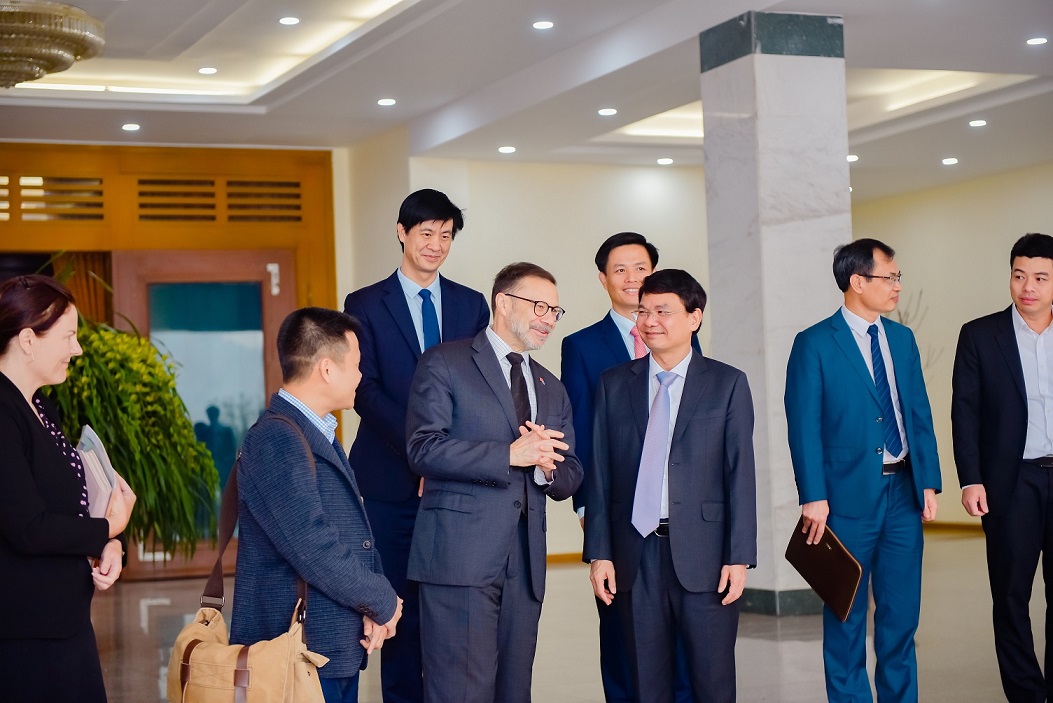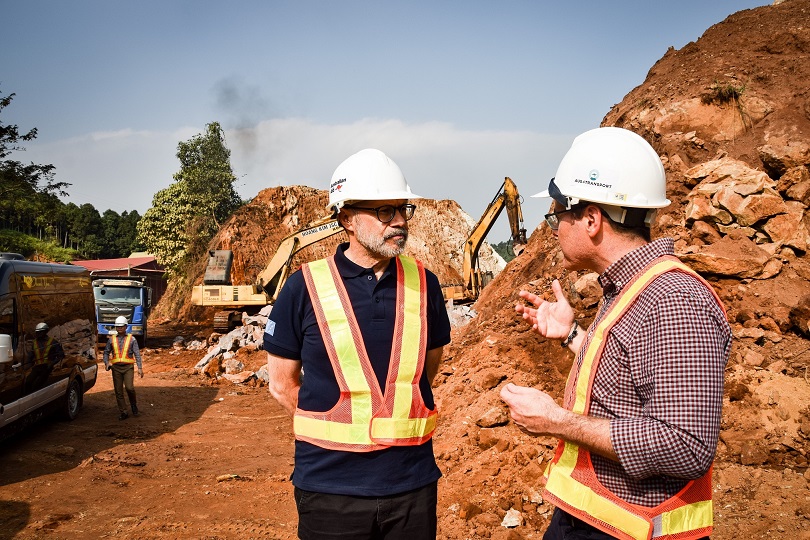 Australia remains committed to supporting socio-economic development in northwest Vietnam. This week, Australia's Ambassador to Vietnam, H.E. Andrew Goledzinowski, led a delegation from the Australian Embassy to visit projects in Lao Cai, Yen Bai and Phu Tho that are benefitting from Australian support.
During the visit, from 11 – 13 January, Ambassador Andrew met community-based businesses, including those run by ethnic minority women, the private sector and governments to understand how Australia's support is helping to strengthen tourism and agriculture opportunities for the communities.
The first of these was Hung Hien noodle cooperative in Bat Xat district, where he learnt about how the noodles travel through the value chain, from the individual women producers to the cooperative and onto private sector buyers. He then joined a community-based tourism cooperative for lunch in Y Ty to talk about community cooperation, destination management planning and plans for an upcoming ADB funded circuit road, which will make it easier for visitors to access the district.
On day two the delegation visited Yen Thanh company and discussed with the Director how stronger private sector and farmers linkages can increase exportation of northwest-processed bamboo shoots to meet the increasing needs of regional and international markets. They also took the opportunity to check in at a local health station, which was a recipient of COVID-19 vaccine refrigerators supplied by the Australian Government.
These are examples of support from Australia's Gender Responsive Equitable Agriculture and Tourism (GREAT) program.
The last day concluded with a visit to a construction site of the Northern Mountain Provinces Transport Connectivity Project under Aus4Transport program in Yen Bai province. Ambassador Andrew met with and discussed the project and its positive impacts for businesses and local communities with local cinnamon farmers, production companies, and members of the public. Aus4Transport Program is funded by the Australian Government for transport infrastructure development activities in Vietnam.
The delegation also visited Viet Tri Water Treatment Plant run by Phu Tho Water Company which is one of Vietnam's first fully privatised water utilities. The ongoing strong partnership and knowledge exchange between Phu Tho Water Company and an Australian water company (Coliban) contributes to improved water quality and water services. Australia supports private sector empowerment and Australia-Vietnam business linkages for sustainable water delivery.
The Ambassador also met with local government leaders in Lao Cai and Yen Bai. Discussions confirmed that the northwest region remains a focus in the broader Australia-Vietnam bilateral partnership. Australian support is growing from an initial focus on clean water and agriculture to now include transport infrastructure, women's economic empowerment, tourism development and private sector development to better the lives of men and women, including ethnic minority communities, in the region.
Concluding the visit, Ambassador Andrew said "The Australia-Vietnam relationship is deeper and broader across all sectors, from education, agriculture, innovation, climate change, clean energy transition, trade to sustainable and inclusive growth and people to people links. I am very pleased to have visit three northwest provinces of Vietnam and witnessed Australia's support contributing to these growing relationship and Vietnam's socio-economic development".
-END-
Media contact:
Ms Nguyen Thi Le Trang +84 24 3774 0261 [email protected]