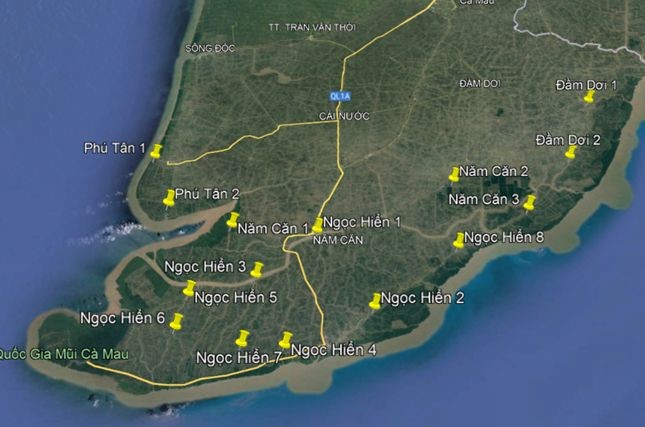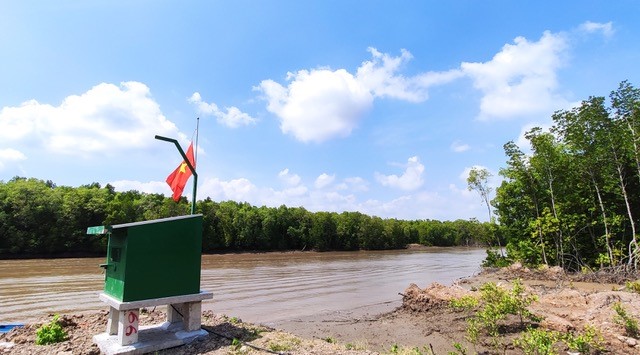 Ca Mau, 16 August 2022 – The AQUAM project delivers mangrove environment monitoring stations in critical water points in Ca Mau province. The project, funded by Australia's Aus4Innovation program, was wrapped up today in a workshop attended by local provincial authorities and representatives from the Australian Embassy.
Mangrove forests are among the most important eco-systems in the world and a valuable source of biodiversity for Ca Mau and other Mekong Delta provinces. Due to their immense carbon storage potential and function as a shield against extreme weather conditions, they play a central role in stabilising the climate and protecting coastal communities. Mangrove aquaculture is also considered a sustainable and productive practice, combining conservation and livelihoods. Mangrove aquaculture, however, is heavily dependent on the influx of high quality natural tidal water, but this water is often polluted, low in oxygen and infected or affected by salinity changes due to heavy rains or drought. This poses risks to both aquatic species and mangrove trees.
The AQUAM project, jointly developed and implemented by the University of Queensland and Green Field Consulting & Development Company, in close collaboration with Nam Song Hau Fishery Research Sub-Institute and Ca Mau Department of Agriculture and Rural Development, has installed 15 wireless environmental monitoring stations using IoT (Internet of Things) technology to monitor the health of the mangrove ecosystem. This will help farmers and local authorities access real-time data on the water quality and respond quickly to environmental hazards.
Sharing her excitement about the success of the project, the Australian Embassy's interim Deputy Head of Mission Kate Wallace said, "This is a great example of how innovation can help address environmental challenges and improve people's lives. I appreciate the role of the Ca Mau provincial leaders in supporting these kinds of activities, as we work in collaboration to deliver sustainable development for the region, and for the whole country".
Vice Chairman Le Van Su of Ca Mau's People Committee added, "We welcome climate-smart innovations that can help communities thrive in harmony with the environment. These monitoring stations can make a significant impact, and there is potential to introduce this technology across the Mekong Delta, where local communities are facing similar environmental challenges. We hope to see further collaboration between Vietnamese and Australian institutes to take this idea to the next level".
AQUAM is one of 12 projects funded by Aus4Innovation's Partnership Grants, which provide funding to scale already tested activities to address emerging challenges or opportunities in a variety of sectors across Vietnam. The projects are mainly focused on the agriculture and food, healthcare, and natural disaster and environment management sectors. Learn more about these projects here: https://research.csiro.au/aus4innovation/activities/grants/
Aus4Innovation, launched in 2018, is a A$16.5 million flagship program funded by the Australian Department of Foreign Affairs and Trade (DFAT), co-funded and managed by Australia's national science agency, CSIRO, and delivered in collaboration with the Ministry of Science and Technology of Vietnam. It aims to strengthen Vietnam's innovation system, prepare for and embrace opportunities associated with Industry 4.0 and help shape Vietnam's innovation agenda in science and technology./.
For further information, please contact:
Ms. Nguyen Thi Hoang Ha – Aus4Innovation Program Manager
Email: [email protected]
Tel: +84 24 3774 0128
Website: https://research.csiro.au/aus4innovation/