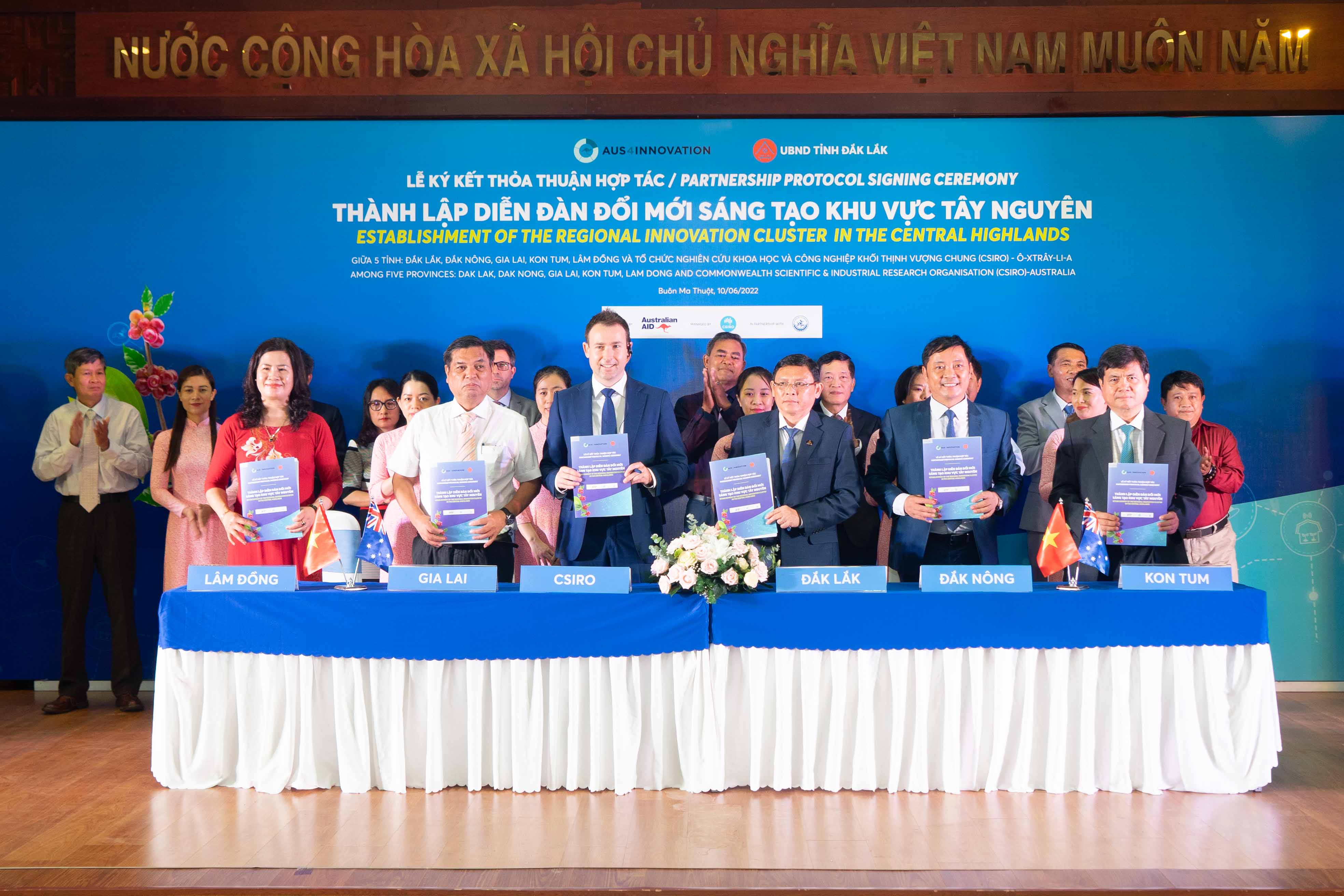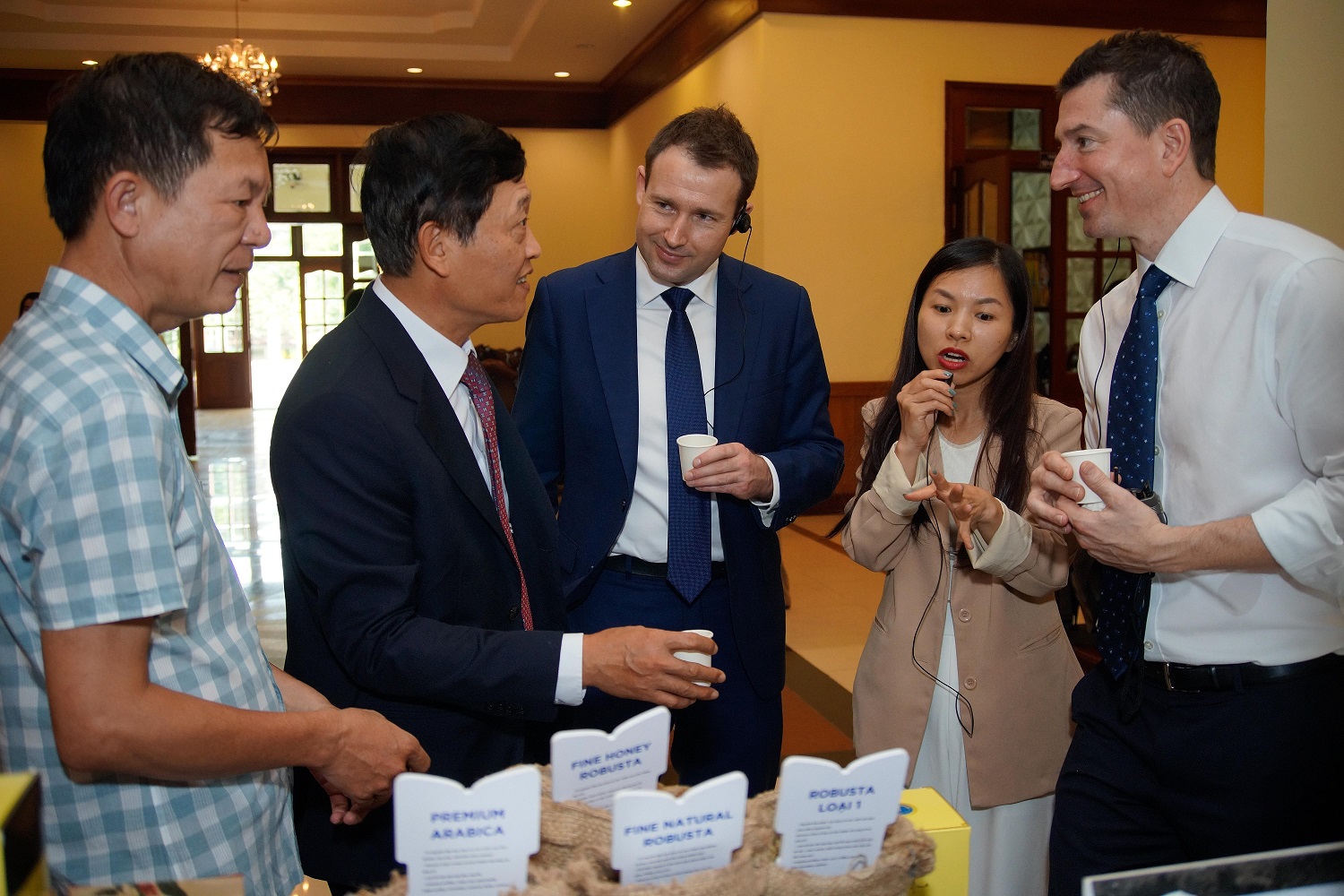 Buon Me Thuot, 10 June 2022 – The five provinces of Vietnam's Central Highlands' region – Dak Lak, Dak Nong, Gia Lai, Kon Tum and Lam Dong have come together to launch a Regional Innovation Cluster. Its aim is to use innovation to create a resilient and competitive agriculture and food industry for the region.
The Central Highlands' Regional Innovation Cluster is an initiative catalysed by the Australian Government's Aus4Innovation program. Through its local partner, the Community Development Centre, Aus4Innovation is establishing a forum for local researchers, businesses, government, farmers and associations to convene and co-develop solutions to industry challenges and opportunities for the region's industrial agricultural products.
Representatives from the provinces and Aus4Innovation program signed a partnership protocol today witnessed by Deputy Head of Mission Mark Tattersall from the Australian Embassy and Vice Minister of Science and Technology Tran Van Tung. The protocol gives the Innovation Cluster legitimacy to operate across the region. Aus4Innovation has also committed to provide seed funding for the Cluster in its first year.
Speaking at the signing ceremony, Deputy Head of Mission Mr Mark Tattersall said "Australia is working in partnership with the Central Highlands on various activities, from transport and public governance to agriculture and food. We believe that with the region's significant advantages in agriculture and food production, a collaboration that brings together farmers and businesses across five provinces is the perfect model with which to explore opportunities and advance shared goals."
"Innovation and application of advanced technologies have been defined by the Vietnamese Government as a key to increasing the resilience and speeding up the recovery of the economy. Therefore, I sincerely hope that provinces in the Central Highlands can make great use of the support from Aus4Innovation and set an example for a regional innovation cluster that generates innovative ideas and practical solutions for mutual challenges while boosting the productivity and value of agri-food products" Vice Minister of Science and Technology Mr Tran Van Tung added.
As the host of the event, the Vice Chairman of Dak Lak's Provincial People's Committee, Mr Nguyen Tuan Ha shared, "The Central Highlands region is a major agricultural hub, known for many crops with high market and export value such as pepper, coffee and fruits. But the agri-food sector is yet to reach its full potential. With about two million hectares of agricultural land, there is a lot more we can do to improve income and livelihoods for the people and sustain economic benefits for businesses."
"The potentials are there but the challenges are there too", said Mr Le Trong Yen, Vice Chairman of Dak Nong Provincial People's Committee. "We know that agricultural production in the region is subject to external shocks such as market fluctuation and climate change, not to mention the pandemic disrupting global supply chains. Thus, resilience and sustainability are definitely the directions we want to develop."
Talking about the priorities of the cluster, Vice Chairman of Gia Lai Provincial People's Committee Mr Kpa Thuyen noted, "We want to focus on the application of innovation and technology, especially climate smart technologies, to optimise quality, productivity and the value of agricultural production and processing. We will also try to improve connections to market and build the region's brand for our agri-food products."
"The Innovation Cluster invites interested stakeholders to participate, including enterprises, cooperatives, support services, farmers, researchers, investors and other agri-food organisations", Mr Nguyen Huu Thap, Vice Chairman of Kon Tum Provincial People's Committee mentioned. "The Cluster will act as a convenor and broker for its members and stakeholders to exchange ideas, identify common challenges and opportunities for innovation solutions, and to access new ideas, skills and technologies from within and outside Vietnam."
Mr Le Trong Yen, Vice Chairman of Dak Nong Provincial People's Committee also remarked, "We are committed to fostering the connection and interaction among the Cluster's members and integrating the Cluster's activities into relevant provincial programmes and workplans where possible to make best use of Australia's technical and financial support as well as other available resources."
To kickstart the activities of the Cluster, common and individual priorities for the five provinces have now been collected and will be used to guide joint activities, networking and training. The Aus4Innovation program is now identifying experts and creating training opportunities for provincial stakeholders to bring in knowledge and experiences from Australia. Information about the Central Highlands Regional Innovation Cluster can be found on the Aus4Innovation website.
Aus4Innovation is the A$14.5 million (2018-2022) flagship program funded by the Australian Department of Foreign Affairs and Trade (DFAT) and managed by Australia's national science agency, CSIRO, in strategic collaboration with the Ministry of Science and Technology of Vietnam. It aims to strengthen Vietnam's innovation system, prepare for and embrace opportunities associated with Industry 4.0, and help shape Vietnam's innovation agenda in science and technology./.
For further information, please contact:
Ms. Jennifer Kelly – CSIRO Agriculture and Food | [email protected]
Ms. Nguyen Thi Hoang Ha – Aus4Innovation Program Manager | [email protected]
Tel: +84 24 3774 0128