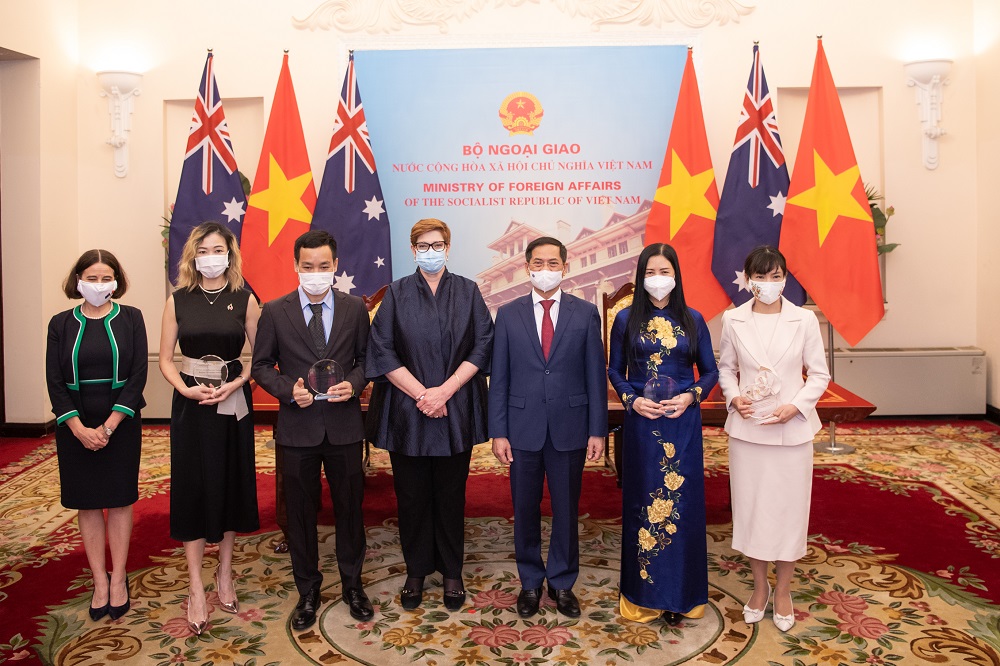 The Australian Government will provide A$6.5 million COVID-19 for a Green Economic Recovery Package for Vietnam. Announced during the official visit to Vietnam of Australia's Foreign Minister, Marise Payne, the package includes A$2.5 million for four business partnerships that will leverage a further A$9.2 million in private sector investment. These four unique partnerships, established under Australia's successful Business Partnerships Platform, will support Vietnam's green economic recovery through commercial initiatives in the energy and climate sectors.
The COVID-19 Green Economic Recovery Package also includes A$4 million through Australia's Mekong Australia Partnership to support low emissions and sustainable rice in the Mekong Delta region, also known as Vietnam's Rice Bowl.
At COP26 in Glasgow last week, Vietnam's Prime Minister Pham Minh Chinh and Australia's Prime Minister Scott Morrison released a joint statement on practical climate action, in alignment with both countries' new commitments to move to net zero emissions by 2050. Australia also announced it would further increase its climate financing commitment over the next five years to A$2 billion, including for Vietnam.
Australia's new Green Economic Recovery Package complements these commitments, supporting Vietnam to tackle the challenges of climate change and energy transition, while creating tangible economic benefits and supporting business growth.
The four Business Partnerships Platform partnerships being awarded today, include:
"Dual use of solar energy for agriculture and aquaculture in Vietnam" – a partnership between DFAT, Climate Sense, the Asia Foundation, Vietnam Bank for Social Policies (VBSP), GreenID and Vũ Phong – represented by Ms Trần Lan Phương, Deputy Director General of VBSP. This partnership will scale up investment in dual use agri-photovoltaic systems in the Mekong Delta.
"Bioenergy on commercial farms in Vietnam" – a partnership between DFAT, SNV, E-Green, Nexus for Development and HD Bank – represented by Mr Phạm Đức Thọ, Director of E-Green. This partnership will scale up sustainable electricity generation at large and medium-sized livestock farms using state-of-the-art equipment.
"Advanced vertical farming for climate, lives and landscapes in Vietnam" – a partnership between DFAT, Orlar, Raise Partners and SNV – represented by Ms Lê Cassandra from Orlar Vietnam. This partnership will deploy innovative vertical farming technology to increase sustainable food production in the Mekong Delta.
"Sustainable cricket farming in Vietnam" – a partnership between DFAT, Cricket One, and Entomo Ventures – represented by Ms Từ Thu Hiền from Cricket One. This partnership is scaling up a cricket farming venture for a sustainable alternative food source.
Media Contact
Australian Embassy in Vietnam: Ms Nguyen Thi Le Trang, Senior Communications Officer, +84 24 3774 0261, [email protected]
Business Partnerships Platform: Ms Corinne Roberts, Communications Manager, [email protected]
Notes for Editor
About the Business Partnerships Platform
The Business Partnerships Platform supports direct partnerships between the Australian Government and inclusive businesses. These partnerships support COVID-19 recovery, climate priorities and development outcomes while providing sustainable commercial returns for the business.
Website: www.thebpp.com.au
Follow us: Facebook LinkedIn Instagram YouTube