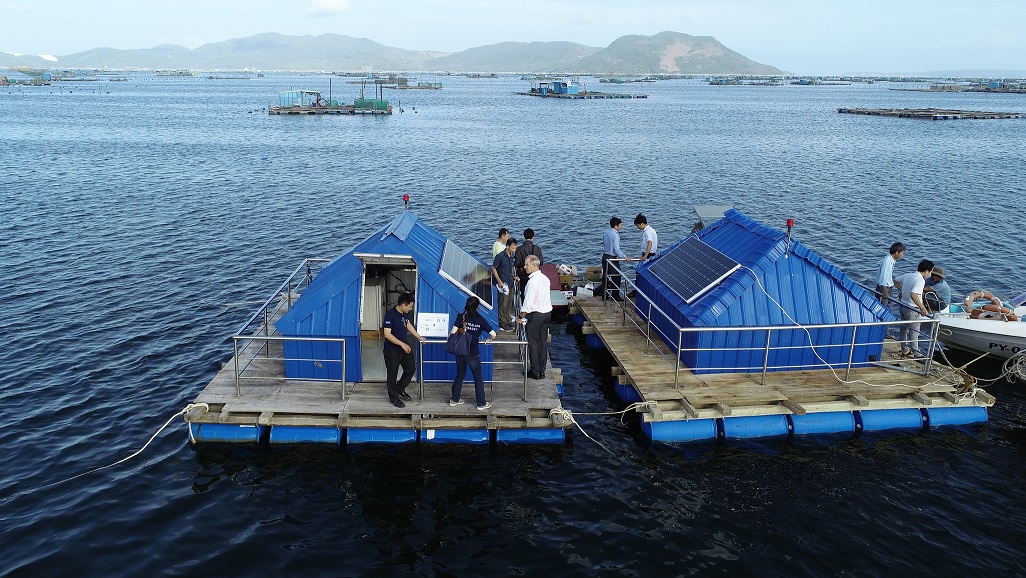 The Australian Government's commitment to its knowledge and innovation collaboration with Vietnam has been strengthened with an additional contribution of AUD 3.5 million to Aus4Innovation (2018-22) – its flagship investment under the Australia-Vietnam Innovation Partnership.
This additional funding has increased the total investment in Aus4Innovation to AUD 13.45 million, helping the program scale up successful program activities enabling initiatives to adapt the Program to the context of economic recovery from COVID-19 and positioning Aus4Innovation for the second phase that will extend the collaboration to 2025.
Speaking at a bilateral meeting with Vietnam's Minister for Science and Technology, H.E. Ms Robyn Mudie, Australian Ambassador to Vietnam, said: "Four years since its establishment, I'm delighted that the Innovation Partnership between Australia and Vietnam, through the Aus4Innovation Program, has delivered tangible, significant results that are having substantial positive impacts on the lives of Vietnamese people. Our collaborative achievements with MOST and partners from both countries are being realised thanks to an embrace of emerging technology and scientific knowledge. Our decision to increase support for Innovation by AUD 3.5 million reaffirms Australia's commitment to our strategic partnership with Vietnam, in which Knowledge and Innovation is one of the three priorities."
Aus4Innovation – which is delivered collaboratively by the Ministry of Science and Technology (MoST) and Australia's national science agency, CSIRO – is building partnerships between Australian and Vietnamese universities, research agencies, high-tech businesses, and policymakers to help strengthen Vietnam's innovation ecosystem to deliver sustainable socio-economic development.
Over the first 2.5 years, Aus4Innovation has explored emerging areas of technology and digital transformation, trialled new models for partnerships between public and private sector institutions, and strengthened Vietnamese capability in digital foresight, scenario planning, science commercialisation, and innovation policy.
"It is very reassuring to know that in this critical time, facing the severe pandemic worldwide and pressure to accelerate digital transformation to meet the goals set by the Government, we have a trusted partner like Australia. Our collaboration is based on strategic trust in the role of science, technology and innovation to drive sustained socio-economic development; and in the mutual benefit that partnership brings to both countries. We highly appreciate the support of the Australian Government through Aus4Innovation Program and are pleased to see what the Program has achieved and impacted to Vietnam's innovation ecosystem. We will continue to work closely for a successful transition period and look forward to more widespread impacts in Phase 2." H.E. Mr Huynh Thanh Dat, Minister of Science and Technology added.
Since the program's formal commencement in 2018, impactful results have been delivered across all program activities. Some highlights include:
130 organisations from both Australia and Vietnam have been brought together in 43 partnerships. These organisations are government agencies, research institutes, universities and businesses – all key stakeholders in the innovation ecosystem.

Practical, innovative solutions delivering development impacts have been applied in different sectors of the economy – health, aquaculture, clean and safe water, smart urban infrastructure, and more.

Overall capacity in science commercialisation has been significantly enhanced through training for knowledge institutes and individual researchers, opening of technology transfer offices across the country and piloting of science commercialisation models to find the most suitable model for Vietnam. A remarkable result of this effort is the Commercialisation Plus – How to Guide, co-developed with Vietnamese partners to introduce a structured commercialisation process to Vietnamese research institutes.
Reports and econometric models have been conducted to provide policy makers in Vietnam with technical support and introduce lessons learned from Australia.
Visit our digital showcase for 2021 to see a more comprehensive overview of results across the program.
Aus4Innovation primarily works in two sectors: future digital economy (including digital technology and artificial intelligence) and resilient agriculture and food systems. In the transition period 2021-2022, new initiatives will be incorporated such as the Vietnam Innovation Marketplace portal to facilitate connections between industry and research organisations and Australia – Vietnam Partnership on Marine Plastic to help the two countries address this common environmental challenge./.
For further information, please contact:
Ms. Nguyen Thi Hoang Ha – Aus4Innovation Program Manager
Email: [email protected] / Tel: +84 4 3774 0128