Yesterday, 810,000 high grade facemasks donated by the Government of Vietnam arrived in East Timor's Capital, Dili. Australia facilitated the delivery of the masks by arranging for their transport from Hanoi to Dili via sea freight.
The facemasks, which were manufactured by Phu Bao Medical at its production facility in Long An Province, arrive at a critical moment for Timor-Leste as it battles a surge in COVID-19 cases. The situation has been further compounded by devastating floods and landslides caused by tropical cyclone Seroja, which have caused extensive damage throughout the country, including to national medical storage facilities.
The floods could not have come at a worse time, Peter Roberts, Australian Ambassador to Timor Leste said: "COVID cases have increased dramatically over recent months. Health centres, bridges and thousands of homes were destroyed or damaged. With many essential services knocked out by the floods and thousands of people being forced to take refuge at evacuation centers, the country is facing mounting challenges in preventing the further spread of the virus. The facemasks supplied by Vietnam will make a highly valued contribution to the fight against COVID-19, particularly in helping to protect medical staff and other frontline workers".
"By working together to deliver these much-needed medical supplies, Australia and Vietnam are assisting Timor-Leste in its fight against the spread of COVID-19. It is another example of the growing practical cooperation between Vietnam and Australia under our Strategic Partnership, and Vietnam's increasing leadership in addressing regional challenges", Robyn Mudie, Australian Ambassador to Vietnam said.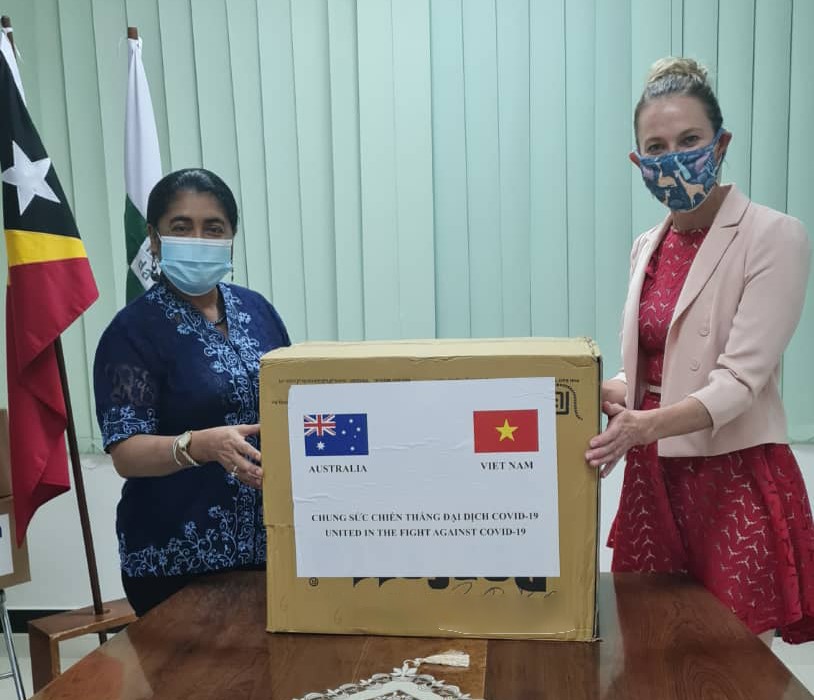 Photo: Counsellor for Human Development at the Australian Embassy in Dili, Carli Shillito, hands over the facemasks to Timor-Leste Health Minister Dr Odete Belo.