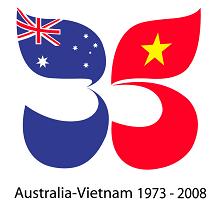 Media Release: Culture
Date: 6 November 2008
Photobook of 35 years of Australia-Vietnam relations launched
Hanoi – At a press conference at the Australian Embassy today, Australian Ambassador Mr Allaster Cox formally launched Australia and Vietnam: Then and now, a photobook tracing 35 years of official and unofficial links between the two countries.

Australia and Vietnam: Then and now includes 57 photos sourced from public contributions and historical archives. The book is based on a traveling exhibition which toured Vietnam in 2008.

Australian Ambassador Allaster Cox said the photos "told a visual story of the amazing build-up in friendship between the people and governments of Australia and Vietnam. It juxtaposes significant historical moments, such as the signing of the first Trade Agreement between Australia and Vietnam in 1974, with equally poignant personal memories, such a Vietnamese football fan supporting the Australian Socceroos in Hanoi in 2007."

Then and Now showcases the diversity of Australia-Vietnam relations, including photos of exchanges in politics, trade, investment, education, environment, defence, development cooperation, culture, humanitarian relief, sport and tourism.

"Particularly significant for me were the photos of the first group of Vietnamese students who went to study in Australian in 1974, testament to our long-lasting education relationship," said Mr Cox. "This group was the foundation stone for the almost 12,000 Vietnamese students now studying in Australia."

Mr Cox thanked all those who had contributed to the book, including the many members of the public who sent in their personal photos of Australia-Vietnam ties.