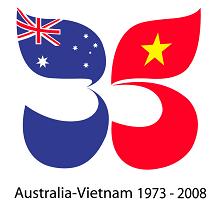 Media Release: Culture
Date: 6 November 2008
Australian Film Roadshow 2008 line-up released
Hanoi – Australian Ambassador, Mr Allaster Cox, today unveiled the program for the 2008 Australian Film Roadshow, which will visit Hanoi, central Vietnam, Ho Chi Minh City and An Giang province between 14 November and 4 December. English and Vietnamese-language sessions of all films will be shown in Hanoi and Ho Chi Minh City.

The 2008 Film Roadshow features seven recent Australian feature films and two short films, including the Academy Award-winning Harvie Krumpet. Between them, the nine films have won 24 Australian Film Industry Awards and have been enjoyed by audiences in Australia and worldwide.

"The 2008 Film Roadshow showcases the diversity and talent of Australia's film industry," said Mr Cox. "I am sure Vietnamese audiences, whatever their tastes, will find something to enjoy amongst the nine films on offer."

The 2008 Film Roadshow features many internationally-known Australian actors and directors including Anthony La Paglia, Geoffrey Rush, Rolf de Heer, Heath Ledger, Joan Chen, Mick Molloy, David Gulpilil, John Clarke, Judith Lucy and William McInnes.

Mr Cox said: "I know Australians and Vietnamese share a love of good films. I am particularly pleased to share with Vietnamese viewers two critically-acclaimed Australian films which have received recent international attention: The Home Song Stories and Ten Canoes."

The Home Song Stories, directed by Tony Ayres, tells the story of Rose, a glamorous Shanghai nightclub singer, and her struggle to survive in Australia with her two young children. In 2007, Stories won 8 Australian Film Industry Awards, including leading actress and screen play.

Ten Canoes, which won a special jury prize at the 2006 Cannes Film Festival, was the first Australian full-length feature to be made entirely in an Indigenous Australian language. It follows a story told to Dayindi, who covets the wives of his older brother. To teach him the proper way, Dayindi is told a story from the mythical past, a story of wrong love, kidnapping, sorcery, bungling mayhem and revenge gone wrong.

The Roadshow will start in Hanoi (14-20 November) before traveling to central Vietnam: Thanh Hoa (17 November), Nghe An (18 November), Ha Tinh (19 November) and Quang Binh (20 November). In the south, the Roadshow will start in Ho Chi Minh City (28 November – 3 December) before moving to An Giang province (2-4 December).

In Hanoi, the Film Roadshow will screen at the National Cinema Centre (87 Lang Ha, Ba Dinh). Free tickets to all screenings are available at the National Cinema Centre and the Australian Embassy (8 Dao Tan St, Ba Dinh) from 6 November.

Free tickets to Ho Chi Minh City screenings, to be held at Megastar Cineplex (7th Floor Hung Vuong Plaza, 126 Hung Vuong, District 5), will be available from 17 November at the Australian Consulate-General (Landmark Building, 5B Ton Duc Thang, District 1) and Megastar.