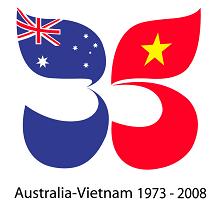 Media Release: DEFENCE COOPERATION
Date: 22 August 2008
Australian navy warship HMAS ANZAC is paying goodwill visit Ho Chi Minh city, Vietnam from 25 to 29 August 2008
Ho Chi Minh City – Australian Navy warship HMAS ANZAC is to visit Vietnam from 25 to 29 August 2008 as part of her 2008 Southeast Asian Goodwill Tour to the countries of Vietnam, Thailand, Cambodia, Malaysia and Singapore. The tour is expected to strengthen the goodwill and nation to nation ties between Australia and Vietnam through personal relationships established during the port visits.

HMAS ANZAC will arrive in Ho Chi Minh City with a total of 184 officers and crew aboard. The crew will meet with senior officers and sailors from the Vietnamese People's Navy (VPN). The crew will also participate in a friendly sporting activity with cadets at the Naval Technical College and play Australian Rules Football against the Vietnam Swans at the Royal Melbourne Institute of Technology (RMIT), Ho Chi Minh City Campus. While in Ho Chi Minh City, the crew intend to conduct charity work as well as taking advantage of the opportunity to explore the beautiful country of Vietnam.

Colonel Stuart Dodds, Australian Defence Attaché in Vietnam stated, "This is an excellent opportunity to build upon the Australian Vietnam Defence cooperation relationship that commenced in 1999. Since this time, the Australian Defence Force (ADF) has trained over 1,000 Vietnamese People's Army officers in Vietnam and Australia. Australia and Vietnam have worked in partnership to resolve Missing in Action cases and have also cooperated in joint Malaria and Dengue research programs. I know all the officers and crew of HMAS ANZAC are looking forward to their visit to Ho Chi Minh City as one of the highlights of their five month deployment."

This is the second time HMAS ANZAC has visited Ho Chi Minh City. She first visited in May 2000 to proudly participate in the inauguration of My Thuan Bridge, a symbol of friendship and cooperation between Australia and Vietnam. Since the establishment of Defence Relations in 1999, fourteen Royal Australian Navy ships have paid goodwill visits to Vietnam.

HMAS ANZAC is commanded by Captain Stuart Mayer, CSC, Royal Australian Navy (RAN). HMAS ANZAC is a modern warship, capable of operating in a multi-threat environment. HMAS ANZAC's design is based on the German Meko 200 Class that uses modular construction methods. A feature of this method was the ability to share the construction in both Australia and New Zealand. HMAS ANZAC is fitted with an advanced package of air surveillance radars; hull mounted sonar and electronic support systems that interface with state-of-the-art weapons. Her principle armaments include a five-inch gun, a vertical launcher system for the Evolved Sea Sparrow Missile, Harpoon anti-ship missile and ship launched torpedoes. A multi-role Sikorsky Seahawk (S-70B-2) helicopter is also embarked to enhance anti-submarine and anti-surface warfare capabilities.

HMAS ANZAC is the third Australian Navy ship to carry the name of Australian and New Zealand Army Corps (ANZAC). ANZAC Day is commemorated each year on 25 April as a National Day of Remembrance for all who have proudly served in Australia's Armed Forces.

In this 35th anniversary year of the bilateral relationship between Australian and Vietnam, it is particularly pleasing that Vietnam and HCMC have been able to host an Australian ship visit. This is further evidence of the continued growth in Defence relations between the countries."