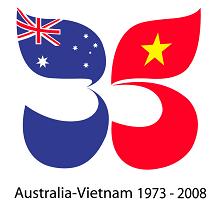 Media Release: EDUCATION COOPERATION
Date: 02 July 2008
Strengthening regional leadership through Australian Leadership Award Fellowships
Hanoi – Thirty-eight Australian organisations have opened their doors to current and future regional leaders from the Asia-Pacific after securing funding under the Australian Leadership Award Fellowships program. Successful applicants for the Fellowships were announced by the Minister for Foreign Affairs, Mr Stephen Smith, in Vietnam today.

"The organisations, including government departments, universities, non-government organisations, private businesses, and research and industry bodies, will receive grants to host 522 Australian Leadership Award Fellows from 25 countries across the Asia-Pacific region", said Mr Smith.

"My current visit to Vietnam has focused on the importance of education and training support and I am very pleased to note the significant increase in Vietnamese participation in the Fellowships program. The number of Fellowships awarded to Vietnam has tripled since last year. This further adds to our already substantial bilateral relationship and strengthens ties between Australia and Vietnam", said Mr Smith.

"Australia is providing $11.7 million for Fellows to undertake professional development programs to help strengthen Australia's ties with the Asia-Pacific region and advance regional reform. These programs contribute to building educational, training and professional links across the region. The Fellowships program also engages with a wide cross-section of the Australian community on priorities for development in the region", said Mr Smith.

"Fellows are current and future leaders in their fields and during their Fellowship will gain access to Australian expertise across a broad range of development areas including pandemics, climate change, international trade, regional security and governance. Australian organisations also benefit greatly from these opportunities to exchange ideas", said Mr Smith.

On the eve of departure for his official visit to Thailand, Minister Smith was pleased that the number of Fellowships awarded to Thailand has also more than tripled over last year.