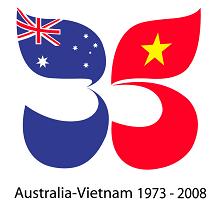 Media Release: EDUCATION COOPERATION
Date: 19 June 2008
Australian Development Scholarships Applications Open for the 2010 Intake
Hanoi – The Australian Agency for International Development (AusAID) and the Ministry of Education and Training (MOET) will open applications for Australian Development Scholarships for the 2010 intake from 30 June to 8 August 2008.

Australian Development Scholarships are available for study in priority sectors of the Vietnam-Australia Development Cooperation program, including Governance and Rural Development and emerging priorities such as Health and Education.

"Australian Development Scholarships is a bilateral initiative of the Australian Government. It aims to contribute to the long-term development needs of Vietnam and promote growth and stability", says Mr. Bill Tweddell, Australian Ambassador to Vietnam. "The program works to strengthen human resource capacity and build the next generation of leaders who will drive future reform in Vietnam."

There are two categories of scholarships – Priority Public Institutions and Open. The Priority Public Instituitons category targets employees working in key public sector institutions in Vietnam to support the development of a 'critical mass' of highly trained graduates who will provide potential leadership for future reform in the public sector. The Open category provides scholarship opportunities for applicants strongly committed to driving Vietnam's development, who work in the private sector, civil society and public institutions. For the 2010 intake approximately one-third of scholarships will be awarded in the Priority Public Institutions category and two-thirds in the Open category.

Up to 150 full scholarships will be awarded to eligible Vietnamese applicants in the 2010 intake. The Australian Development Scholarships are for postgraduate study only, with approximately 135 scholarships for the 2010 intake allocated for study at Masters level and approximately 15 for study at PhD level.

Applicants from all provinces of Vietnam, from civil society, public institutions and the private sector are encouraged to apply. Scholarship applications will open on 30 June and close on 8 August 2008.

Public information sessions will be held in Ho Chi Minh City, Can Tho, Hanoi and Danang to provide further information to those interested in applying for a scholarship in the 2010 intake.