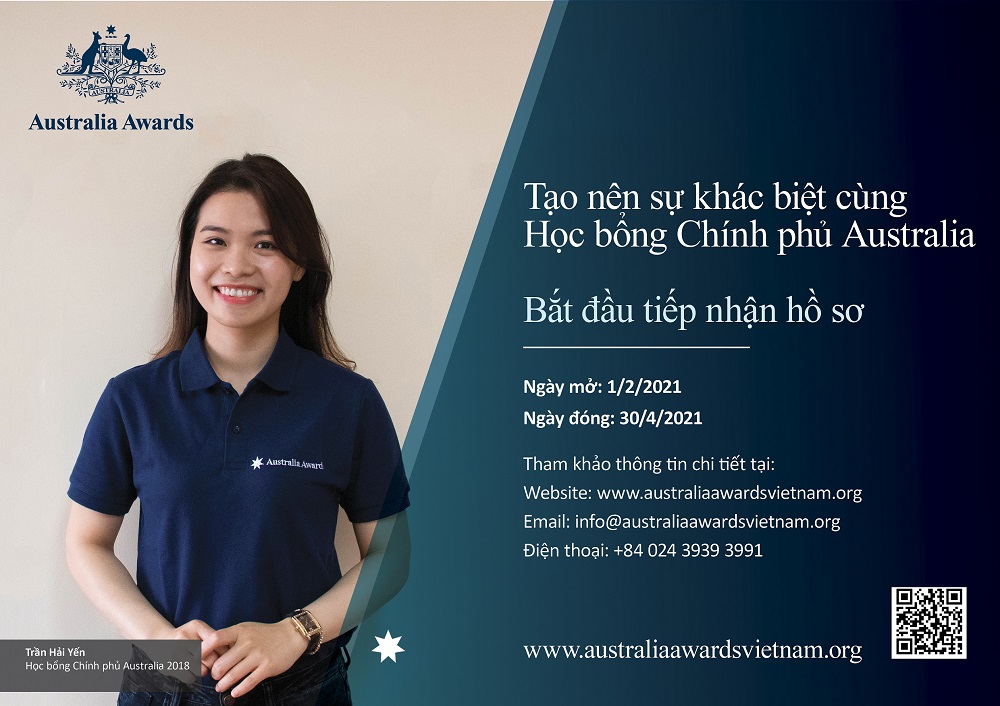 The Australian Government is pleased to announce that applications for the Australia Awards Scholarships 2022 intake round are open from 1 February to 30 April 2021. Applicants are invited to apply online at http://bit.ly/AustraliaAwardsScholarship. The Australian Government will increase the number of scholarships that it will offer in the 2022 intake round, with results expected to be announced in August 2021.
Australia Awards Scholarships (AAS) are more than a qualification, they are a life-changing opportunity. AAS are prestigious, fully funded scholarships offered by the Australian Government to Vietnam's next generation of global leaders. Through master's level study and research, recipients gain a world-class education, build lifelong personal and professional connections, experience Australia's diverse culture, and develop knowledge and skills in priority areas of study that will make a difference to Vietnam's development. This year those priority fields of study have expanded to include health, with the aim of supporting Vietnam's COVID-19 recovery and resilience.
People with a disability, from disadvantaged rural areas and from ethnic minorities are strongly encouraged to apply. A support scheme is available to assist equal participation for AAS applicants.
Full details on the AAS program, including eligibility criteria, can be found online: http://australiaawardsvietnam.org.
Ms Phung Thi Lan Phuong provided the following remarks while reflecting on her experience as an AAS recipient at Australia's University of Adelaide, "My experience with Australia's world-class education was a critical steppingstone to my success today. The knowledge and skills gained in Australia have helped me develop my expertise to confidently follow my career path."
Mr Andrew Barnes, Chargé d'Affaires of the Australian Embassy in Hanoi, provided the following comments on the AAS program, "As Australia's Chargé d'Affaires in Vietnam, I have the privilege of meeting many leaders, influential experts and outstanding members of the Vietnamese community who are alumni of Australian universities. The knowledge and connections that AAS recipients gain in Australia empower them to contribute to Vietnam's development and to strive for a better future. AAS build invaluable connections between people, trust between nations, and an understanding of one another's cultures, politics, economy and social norms."
To date, the Australian Government has awarded over 6,000 AAS to Vietnamese nationals to study in Australia. On their return to Vietnam, AAS alumni contribute to advancing Vietnam's development and go on to hold senior positions in business and government.
For further information about Australia Awards Scholarships, please email [email protected], or call (024) 39393991 (8:30am – 4:30pm weekdays).