Australian Federal Police
For further information on the role of the Australian Federal Police (AFP) overseas, please visit the AFP website via the following link www.afp.gov.au
News: 10th Anniversary of the AFP Liaison Office HCMC
Coinciding with the 40 year Anniversary of the Australia Vietnam bilateral relationship, the AFP was very pleased to jointly host with the Ministry of Public Security (MPS), Police General Department of Crime Prevention and Suppression, the 10 year Anniversary of the presence of the AFP in Ho Chi Minh City (HCMC).
The AFP representation in Vietnam is a proven and excellent example of global collaboration between the AFP and the MPS in fighting transnational organised crime since law enforcement representations commenced from Bangkok Post in 1993. The first AFP Post opened in Hanoi on 1 April 1999 and was subsequently complemented by the opening of the AFP Post in HCMC on 13th of June 2003, and the Vietnam Australia Joint Transnational Crime Centre (JTCC) in 2010.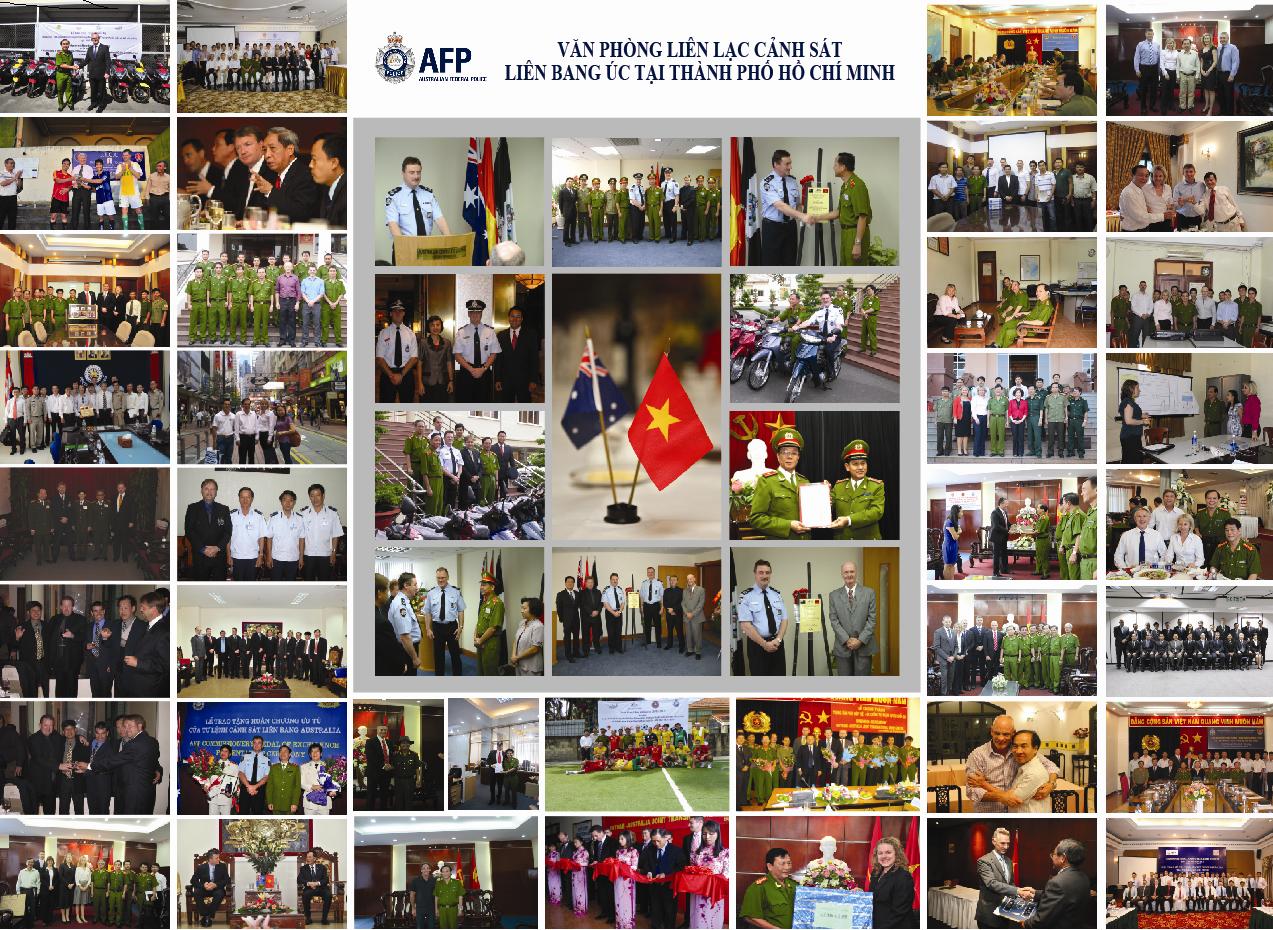 Pictorial celebration of 10 years of AFP HCMC Liaison Office
The mutually beneficial relationship built over these many years on a solid foundation of trust, respect, honesty and friendship, continues to provide significant outcomes for both countries and indeed the region, to offset the impact of transnational organised crime.
Testament to our collaboration, in 2011 the AFP and MPS through Operation Tanis conducted their first joint international controlled delivery of illicit precursors from Vietnam to Australia resulting in the dismantling and arrest, of a seven member organised crime syndicate in Adelaide.

2012/13 saw an escalation of this platform through AFP Operations Vidua and Volante whereby the first ever operational deployment of Vietnamese Police to Australia took place as part of a resolution in Melbourne, enabling simultaneous Vietnamese Police actions in HCMC never before being undertaken for a foreign police agency. These operations dismantled an organised crime syndicate in Australia, Vietnam, China and Macau and netted 47kg of ICE, 12.3kg of heroin, $AUD3.02m and the arrest of 12 suspects.

AFP Operation Whiffler investigation into a Vietnamese organised crime syndicate in Brisbane, HCMC, USA and Japan was amply assisted by the Vietnamese Narcotics Investigations Department (C47) resulting in the arrest of three HCMC based suspects and the seizure of 110kg of ICE in Japan.
Strategically, the AFP are also proud to have been given the opportunity to assist our Vietnamese colleagues over the years with for example, ongoing training in High Tech Crime, Forensics, English language, intelligence analysis and tools, significant equipment and of course delegation exchanges.
Importantly, the AFP and MPS in partnership with RMIT University, have jointly managed and coordinated the Asia Region Law Enforcement Management Program (ARLEMP) over the past eight years running 32 very successful programs for over 650 participants. This is undoubtedly the regional training law enforcement flagship of which Australia can be extremely proud.
The JTCC is a further highlight of the strength of the law enforcement relationship. This cooperative venture between Vietnam and Australia is the first project of its kind to be established in Vietnam with a unique model consisting of eight different departments from both the Security and Police elements of the MPS, and an embedded foreign AFP Law Enforcement Advisor working jointly together.
National Manager Serious Organised Crime Ramzi Jabbour had travelled to Vietnam on 27 and 28 August to represent the AFP as part of the celebrations meeting with senior officials in Hanoi and HCMC.
In Hanoi, Assistant Commissioner (AC) Jabbour met with the Director General of the Police in Vietnam, Lieutenant General Phan Van Vinh discussing a range transnational crime issues and to orientate the future direction of cooperation between the two police agencies. Lt Gen Vinh said the strength of the relationship between the Vietnam Police and the AFP has led to increased levels of cooperation and successful operational outcomes which benefit both countries.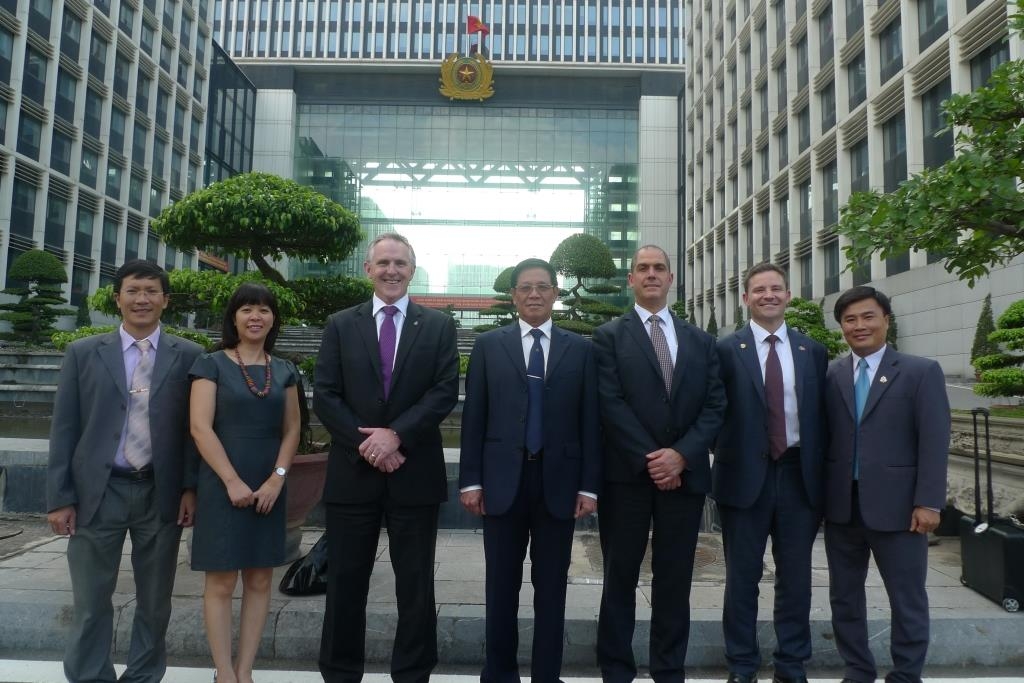 Assistant Commissioner Ramzi Jabbour, Lieutenant General Pham Van Vinh and Commander Chris McDevitt in Hanoi
Whilst in Hanoi, Australian Ambassador to Vietnam, His Excellency Mr Hugh Borrowman, graciously hosted a BBQ at his residence for Lt Gen Vinh and AC Jabbour. This more relaxed and informal environment provided a further opportunity for crime issues important to Vietnam, Australia and indeed the SE Asian region to be discussed and for personal relationships at senior levels to be enhanced.
In HCMC, AC Jabbour and Lt Gen Cao Minh Nhan of the Vietnamese Police, co-hosted an official function to celebrate the 10 year Anniversary. Consul General, Mr John McAnulty and staff from Vietnam's AFP liaison offices were joined by various senior members of the Vietnamese law enforcement community, HCMC Customs, Immigration Department and the JTCC.
During his speech, Assistant Commissioner Jabbour described the strength of the mutually beneficial relationship between the AFP and MPS as "second to none". Lt Gen Cao Minh Nhan reinforced this by describing the AFP HCMC Liaison Office as "absolutely crucial" in supporting the MPS to combat transnational crimes that are of mutual interest to Vietnam and Australia.