Last updated 26 March 2021
This page has advice for Australians in Vietnam who are trying to return home to Australia.
For urgent consular assistance please call:
+84 24 3774 0100 (within Vietnam; 8:30am to 5:00pm Monday to Friday)
+61 2 6261 3305 (from overseas; 24 hours a day 7 days a week)
For non-urgent consular assistance please email us:


Existing international air passenger arrival caps will remain in place, with ongoing review by National Cabinet. If you have a flight booking, you should check with your airline for any changes to your flight departure details. There is no requirement for passengers to pre-register their details with the Embassy or Consulate to purchase flights home.
Vietnam Airlines
In April 2021, Vietnam Airlines will be flying:
Flight Number

Route

Departure

time

Arrival

time

Day of week

Dates

VN773

Ho Chi Minh City (SGN) – Sydney (SYD)

2050

0815 (+1)

Thursday, Sunday

4, 8, 11, 15, 18, 22, 25, 29 April 2021

VN787

Hanoi (HAN) – Sydney

2330

1205 (+1)

Saturday

3, 10, 17, 24 April 2021
Tickets are only available for purchase by attending a Vietnam Airlines office in person or through a ticketing agent. They are not available for purchase online.
Singapore Airlines
Cathay Pacific
Cathay Pacific have suspended passenger services between Vietnam and Hong Kong in February and March due to new Hong Kong Government quarantine requirements on air crew.
Please contact their local Ho Chi Minh City office if you have been affected.

All travellers arriving in Australia must undergo a mandatory 14-day quarantine in their city of arrival, regardless of their final destination.
This will be organised by the Australian Border Force and the relevant state and territory Government on your arrival.
After you have completed your 14-day quarantine you will be free to travel onto your final destination.
States and territories have introduced their own arrangements and costs. Visit your state or territory website for more information on quarantine costs and arrangements.

Only Australian citizens, permanent residents and immediate family members can travel to Australia.
Anyone who is not an Australian citizen, Australian permanent resident or immediate family member of an Australian citizen will need to apply for and be granted an exemption to enter Australia. Without a granted exemption, you will be denied boarding at the airport.
Read more: Department of Home Affairs | Coming to Australia

From 22 January 2021, if you're travelling to Australia, you must provide evidence of a negative COVID-19 (PCR) test to your airline when checking in for your flight at the departure point (exemptions apply).
You must be tested 72 hours or less prior to the scheduled flight departure.
If you or a primary close contact of your travelling group tests positive, you won't be allowed to travel to Australia.
Masks must be worn on all international flights, including at airports.
If you transit through a third country on your return journey to Australia, you should check on any local requirements at your transit destination and follow the advice of local authorities on social distancing and mask wearing while in transit.
Anyone who has a negative test result and enters Australia must still complete mandatory 14-day quarantine at designated facilities in your port of arrival.
You can find a list of COVID-19 PCR testing locations in Hanoi, Ho Chi Minh City and Da Nang here.
Read more: Smartraveller | Advice for returning to Australia

If you are travelling to Australia, you should complete an Australia Travel Declaration online at least 72 hours before boarding your flight.
You will need to provide your contact details in Australia, flight information, health status and requirements during quarantine.
This information helps the Australian Government determine your quarantine arrangements and enables health authorities to contact you if someone you travelled with tests positive for COVID-19.
Read more: Department of Home Affairs | COVID-19 and the border: Australia Travel Declaration

Travellers to Western Australia (including Western Australian residents) must complete a G2G Pass online.
Travellers to Victoria will need to fill out the Victorian Quarantine Arrival Form separately for each person (including each child) travelling to Victoria before departure.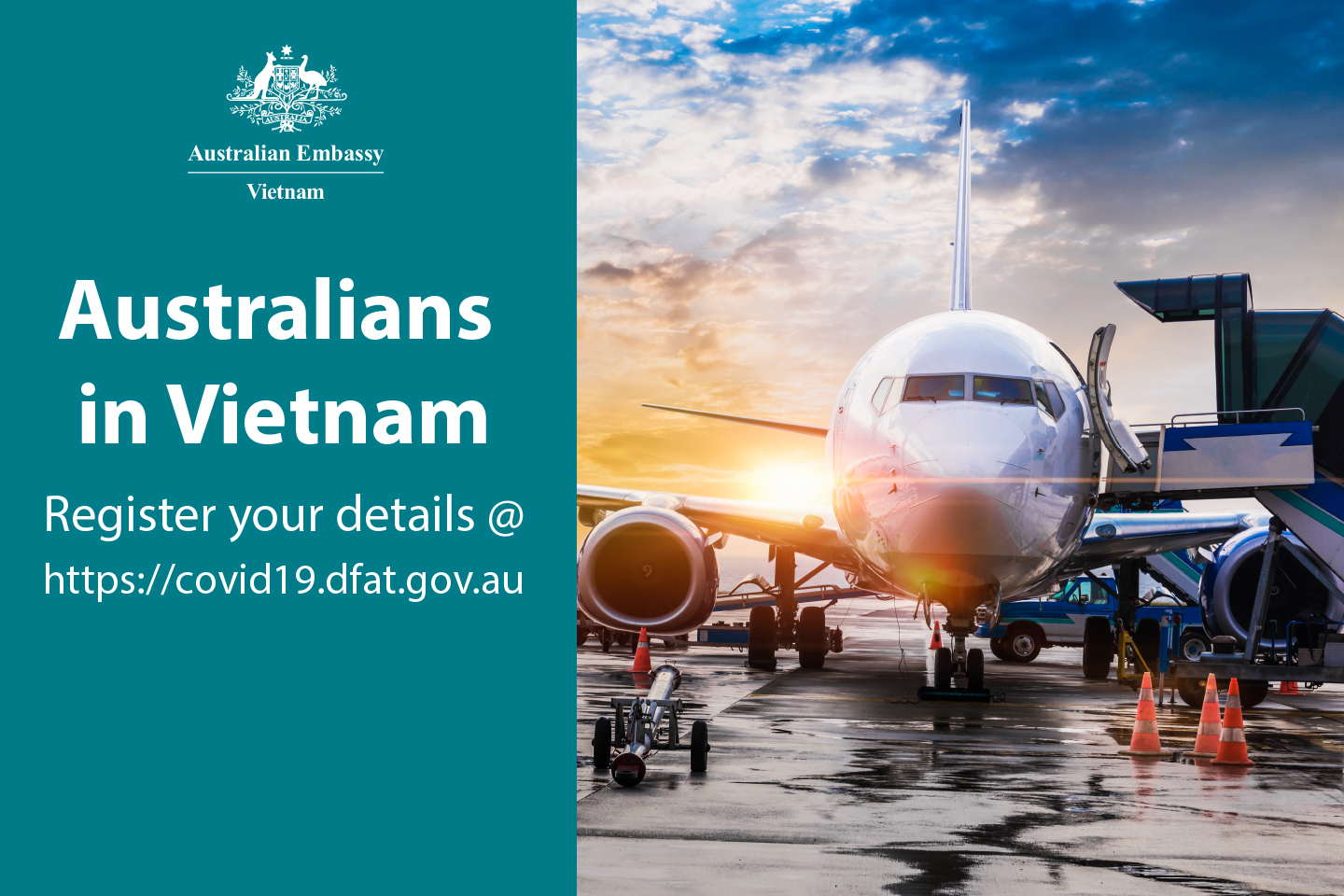 If you are an Australian citizen or Permanent Resident in Vietnam who wishes to return to Australia but have been unable to, you can register by visiting the COVID-19 Registration portal. Please complete details of each traveller and provide your address in Vietnam and not Australia.
If you are in Vietnam but do not want to return to Australia, please do not register. Registration is for those seeking to return to Australia only.
Registering your details with DFAT does not guarantee we can facilitate your return to Australia. However it does help us better understand who's seeking to return home and how we can be most effective in helping.

If you've been unable to return to Australia due to COVID-19 restrictions and are experiencing financial distress, you may be eligible for interest-free loans to cover living costs while you wait for a flight to Australia and/or to help cover the costs of the flight.
The Department of Foreign Affairs and Trade (DFAT) in Canberra is administering the loans program. These emergency loans are only available as a last-resort. Applicants will have to meet strict eligibility criteria and must be intending to return to Australia as soon as a flight is available.
Read more: Smartraveller | Overseas Financial Assistance

If you're an Australian citizen or permanent resident returning from overseas, you may be eligible for government payments and other support. Usually a person must be in Australia when they claim. However, your claim may be accepted while you're overseas if you'll be eligible when you return to Australia.
Read more: Services Australia | Australians returning from overseas
We understand it can be very overwhelming and confusing as each state/territory has their own restrictions in managing COVID-19. If you are unable to find the information online or need further advice we would recommend contacting the Australian National Coronavirus Hotline – +61 2 4018 3422.